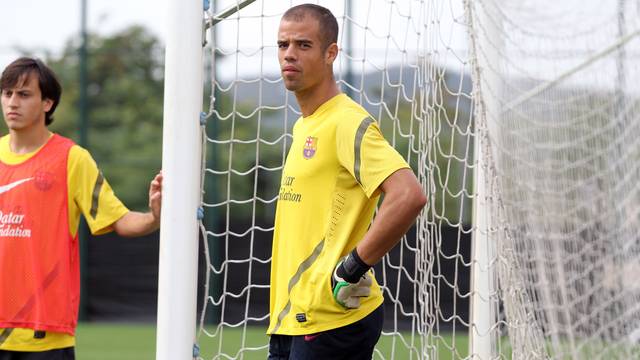 With the Spanish League season set to kick off this weekend, we look at how Barça's rivals have been working in this summer's transfer market and their prospects for the new campaign
Osasuna
After losing Raul Garcia back to Atletico Madrid, Osasuna's marquee signing has been Joseba Llorente on loan from Real Sociedad. Iranian midfielder Nekounam has also moved on, but don't expect any change in playing style from the Pamplona team, who will again look to make their Reyno de Navarra ground a stronghold.
Mallorca
With De Guzman and Ramis off to try their luck in the Premier with Swansea and West Ham., Caparros has brought in veteran defender Antonio Lopez from Atletico Madrid, Javier Marquez from Espanyol , Arizmendi from Getafe and ex- Barça B keeper Miño as he looks to build on last season's storming finish to the campaign.
Seville
Despite losing Kanoute to Beijing Guoan, Michel hasn't yet made any big signings for Seville who will hope to improve on their disappointing 9th place last year. Brazilian full back Cicinho from Palmeires and the Chilean winger Rabello are the two most interesting looking newcomers so far.
Athletic Bilbao
With their tradition of only signing Basque players, Athletic Bilbao are more restricted than most in their transfers, but they have brought in their ex-player Arduriz from Valencia –where he scored 17 goals in two years and will no doubt be happy to have lost none of their talented youngsters to bigger clubs over the summer.
Getafe/Real Sociedad
With the re-signing of Pedro Leon from Madrid for another season long loan, Getafe made perhaps their most important move of the summer after off-loading 10 of last year's squad, whilst Real Sociedad have held on to Carlos Vela, who'd been on loan from Arsenal and this summer signed a four year contract with the Basques.
Betis
Pepe Mel has also dipped into Arsenal's pool of talent, taking the exciting young Costa Rican Joel Campbell on a season long loan after his successful spell in French football last year, whilst Roque Santa Cruz has still not been able to convince Manchester Cirty to let him stay in the Andalucian capital.
Espanyol/Rayo
Espanyol's big news in the summer was the return of World Cup winner Joan Capdevilla, after a disappointing year at Benfica. Weiss, Coutinho and Romaric have all departed, as has Xavi Marquez to Mallorca. Meanwhile, Raul Tamudo's last gasp heroics to save Rayo from relegation last May proved to be his last action for the Madrid outfit, as he moved on to CF Pachuca in the Mexican league, whilst the leading midfield goal scorer in La Liga last season – Michu- also left Rayo, signing for Swansea, with Espanyol's on-loan defender Jordi Amat one of a host of new faces moving in.
Zaragoza/Granada
Both Zaragoza and Granada- who finished below Rayo at the end of last year – have dipped into the lower divisions to reinforce their squads, with Manolo Jimenez's side also signing Apoño, who was on loan for the second half of last season from Malaga and shipping out Latifa to Getafe and Luis Garcia to Tigres in Mexico.
Promoted Clubs
The newly promoted trio of Deportivo, Celta and Valladolid have all strengthened their squads, with Deportivo signing five players from Portugal,as well as veteran defender Marchena from Villarreal, Celta going for top flight experience taking Seville keeper Javier Varas on loan for a year and Valladolid bringing in Serbian international defender Antonio Rukavina on a free transfer from 1860 Munich.