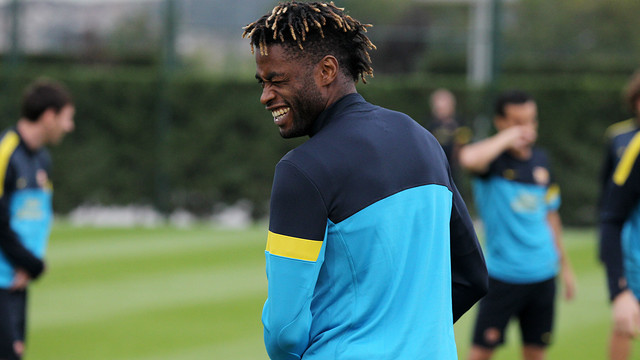 Alex Song, the second signing of the Vilanova era, comes to FC Barcelona looking win his first major honours. Having been helped to settle by Cesc, the former Gunner is now ready to triumph at "the best club in the world"
Error free debut
August 29, 2012 is not a date Alex Song will forget in a hurry. That was the night of his official debut in a Barça shirt, just nine days after signing for club and being officially presented to the Camp Nou at the 47th edition of the Joan Gamper Trophy. Song was simply stunning at the Santiago Bernabéu, where despite the disappointment of missing out on his first title at Barça, all 18 of his passes were good in the 19 minutes he spent on the pitch after coming on for Sergio Busquets. "It wasn't the result we wanted, but it was a good game for me" he said afterwards.  Song is not the first player to make his debut against Real Madrid. The two new signings in the summer of 2011, Alexis Sánchez and Cesc Fàbregas, also made their debuts against FCB's biggest rival. The former in the first leg of the Supercup and the latter in the return helped Barça collect the trophy for the third year running. Alex Song started his first match for Barça four days later against Valencia at the Camp Nou. He played the full 90 minutes and a massive 61 of his 68 passes were good.
One of 27 children, he is a family man who likes "to be different to the rest"
Claude Makelele the mentor: "He told me not to waste energy on nothing"
Adaptation to FCB quicker and easier than at Arsenal
On May 17, 2006, two young 18 year olds passed each other in the corridors of the Saint-Denis, venue of the Champions League Final between Arsenal and FC Barcelona. Their names were Leo Messi and Alex Song, but neither of them played in that match. The Argentinian had failed to recover in time from an unfortunate leg injury, and the Cameroonian, still in his first year under Arsène Wenger, had not been named in the squad.
Six years later, and the two of them meet again at Barça. The former is now considered the best player in the world, and the latter is the second new arrival of the Tito Vilanova era, a player brought in to provide extra height and depth to an area of the field where a void has been left by the departure of Seydou Keita. Song told BARÇA MAGAZINE how "I was in Paris for the Champions League Final in 2006. I remember it well, because Messi was in the players tunnel, and he wasn't playing either. Barça deserved to win. It was a good experience for me, even though we lost. We didn't get some things right and that was why we lost. And Barça had a great game." But that night in Paris is now history. The Catalans have won two further Champions League titles since that magnificent evening, while for Alex Song and Arsenal the same years brought little more than disappointment and nothing in the way of major silverware. "I have come to Barça to win" he says. "It is a team that despite having won everything is still hungry for titles. That's why I signed. Because I always want to win and this team is on another level."
Makelele the inspiration
Alex Song has come to Barcelona to finally start winning trophies. But he is also keen to share a dressing room "with the best players in the world". In London, apart from that painful defeat in 2006, he also saw two potential Premier Leagues slip away in 2007/08 and 2010/11 and also lost Carling Cup Finals in 2007 and 2011. He knows where he has come and that competition for places is tough at FC Barcelona, especially in his part of the pitch, where Sergio Busquets (defensive midfielder), Javier Mascherano, Gerard Piqué and Carles Puyol (centre backs) are all regular starters. But just like Mascherano, Song knows he is going to have to learn to accept certain situations and work his way into the side. "I know the best are at Barça and I'm happy to be here because of that. I'll work hard to get to play as many games as possible", he says. He singles out Busquets as the main man to watch. "I already liked him when I was in England. We played against Barça twice and I noticed him. I like the way he plays. There's no doubt that Barça have one of the best players for that position, which is also mine". But long before Busquets, the man Song most looked up to was Claude Makelele, the former Real Madrid and Chelsea man. "He was my role model. I've always followed him, ever since I was little. He played in my position and was one of the best". Alex got the chance to get to know Claude better than ever during the Emirates Cup of 2009, Arsenal's equivalent of the Joan Gamper Trophy. "Some three years ago, I got to chat with him" he reveals. "He gave me some advice and I was very pleased with it. Ever since I had been a kid I'd wanted to be like him and it was a great experience to get to meet him … He told me to concentrate harder. Without pressure. And he advised me on some moves, to be clever on the pitch. He told me not to waste energy on nothing, but to use it to get the ball, and I tried to apply what he said to my game". Since then, whenever Song is in Paris he tries to find time to meet up with Makelele, who retired from the game in the summer of 2011.
His uncle, Rigobert Song, was another inspiration. "I wanted to be like him, of course. He had played at a high level, and was like an advisor for me. We are still in contact. He's coming to see me in Barcelona soon. I can now say that I have been as lucky as he was." But although Alex Song has plenty of family associations to professional sport, he didn't play football until he was 12. Four years earlier, when he was 8, he had left Cameroon with his family (his father died when he was 3) to live in Paris. It was then that a school friend told him he was a member of a small club in the neighbourhood and invited him along for a try-out. It turned out to be a very wise move for Song to accept the invitation, for it wasn't long before he'd made quite a name for himself, and he eventually joined the Bastia youth system. He progressed strongly, and from 2001 through to 2004 he worked his way up into the first team, managed at the time by François Ciccolini, the same coach who had overseen his development when he arrived at the club. In Ligue 1, at the tender age of 16, he played 32 matches in his only season of top flight football in France, enough to attract the attention of some of the top sides in the English Premiership. The club that showed the most interest, and where he ended up, was Arsenal, managed by Arsène Wenger. That summer, Patrick Vieira, the star midfielder for the Gunners for the last nine years, left London for Juventus. It was his position that Song was destined to fill.
At Bastia, Song had already displayed his ability as a centre back, and even filled in from time to time at left back, but at Arsenal, Wenger tried him out as a defensive midfielder. "I often played at centre back too" he remembers. "But that was more when somebody was injured or suspended, not as a first option." Tito Vilanova clearly also has an eye on playing him in both positions, which would imply a different role to that of Seydou Keita. The Malian almost always played at inside left and was there to provide balance to a midfield packed with the natural flair of the likes of Xavi, Iniesta, Cesc and Thiago. Keita often played as a defensive midfielder, but never at centre back. Neither can Song be compared with Touré Yaya, even though the Ivorian served more or less the same roles that will be expected of Alex Song at FC Barcelona. "We are different players", he insists, knowing that Touré is better known for attacking rather than defensive attributes. Nevertheless, at Arsenal, the player who becomes the first Barça man to don the '25' shirt since Albert Jorquera in the 2008/09 season, did sometimes display his ability to contribute to more offense-minded football too. If forced to find any kind of comparison, Song would go for the tactical awareness of Busquets and the physical prowess of Mascherano.
"I owe everything to Wenger"
Song was sad to leave Arsène Wenger behind. "I am who I am thanks to him" he says. "When I came to England, he was a big help to me. I was very young, just 17, not 25 like I am now. Wenger was like a father to me. It was very hard for me at first because I had left my family behind in France, and so he treated me like a son." Song's gratitude goes all the way back to his first week in the British capital, in the summer of 2005. The Cameroonian found it extremely hard to adapt to life as an Arsenal footballer, where he originally came on loan. He only ate bread and butter, he didn't know anyone and hardly ever left his house. Desperately homesick, he wanted to leave London and go back to his family in Paris. It was only because of Wenger that he didn't do that and instead ended up being a star at Arsenal, who exercised their option to buy and enjoyed his services for seven years. "I have a great relationship with Wenger" he now says. "I want to thank him for believing in me. I want to give him back everything he gave me. I'm sure he's happy to see where I am now and the kind of player I have become. He always said: 'do you remember your first touches of the ball when you came to Arsenal? They're not the same as they are now'. And I'd answer: 'you're right. They're certainly not the same as they are now'".
It has been so much easier at Barça. Having married Olivia when he was 18, and now being the proud father of Nolan and Kaylian, two fervent admirers of Leo Messi, Song immediately adapted to the Catalan capital. "I'm not the same age as I was when I arrived at Arsenal. Things have gone much better here. The food is good, I like what I have seen of the city and we have a great team. It's all perfect. It was very easy to come here and adapt" he says. Cesc Fàbregas, with whom he played at Arsenal until 2011, has been a huge help to him in Barcelona: "I have known him for a long time and I slept at his house for the first few nights I was here. He's a good friend. He tries to help me in training, in every game, on and off the field". He admits that he contacted Cesc as soon as he had agreed terms with FC Barcelona. "I asked him for advice, because he knows Barcelona and the city very well. He was born here and can offer me guidance. He told me what I had to do and not to do and I have always done what he has suggested." Song has also managed to strike a chord with José Manuel Pinto and Lionel Messi, despite the language barrier. "If FC Barcelona is the best team in the world it's also because of the wonderful group of people here" he believes. "They are all good people." For such a family minded player, FC Barcelona has made him feel at home. Born in Douala, he has 10 brothers and 17 sisters, and so he is used to being surrounded by people close to him and helping each other out. For example, on the day of his presentation, he was joined by a large group of members of the Adna-Bassa cultural association, who are all of the same ethnic group as the new Barça star.
Glad to be different
Alex Song, according to Andoni Zubizarreta, was top of the club's list of possibilities for somebody who could play both at centre back and as central midfielder, even though he could be described as a somewhat offbeat character. "I like being different to everybody else", says a man with a very peculiar dress sense and hairstyle. At the 2010 World Cup in South Africa something else happened that inspired him to change his look with such bizarre frequency. One of his sons confused his father with another member of the Cameroon squad. As soon as the tournament was over, Song went straight to a hairdresser to make sure the same thing never happened again. "I don't know when I'll change my hairstyle next" he concludes. "But you can rest assured that I will".