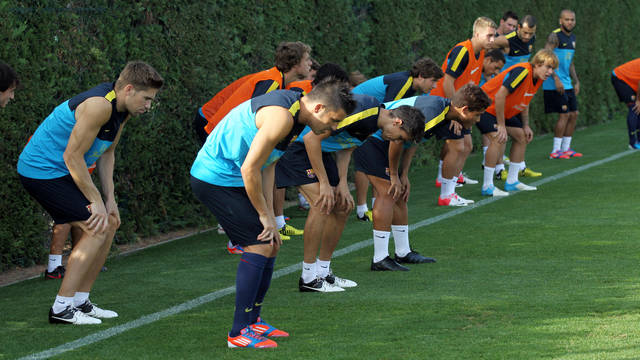 Tito Vilanova prepares FC Barcelona's La Liga debut with a depleted roster due to this week's international fixtures
The internationals are due back in Barcelona on Thursday
The Liga is right around the corner and FC Barcelona are scheduled to kick off the 2012/13 Liga at the Camp Nou against Real Sociedad next Sunday, August 19, at 21.00. Before this weekend's match, however, many FC Barcelona players will feature in mid-week international friendlies.
A total of 11 first-team players have been named to their respective national teams for the upcoming international friendlies. Therefore, Tito Vilanova will only be able to work with 11 players on Tuesday morning: Puyol, Xavi, Villa, Pinto, Jordi Alba, Adriano, Dos Santos, Montoya, Fontàs, Bartra and Tello.
On Thursday, however, all the international players are due back in Barcelona for the team's evening training session, with the exception of Alexis Sánchez, who will play for Chile in New York City on the same day. It won't be until Friday that Tito Vilanova will have his entire squad at his disposal, not counting the injured players, to prepare for the first match of the Liga.
Monday, August 13
Day off
Tuesday, August 14
9.00 Training session
Wednesday, August 15
9.00 Training session
Thursday, August 16
19.00 Training session
Friday, August 17
9.00 Training session
Saturday, August 18
9.00 Training session
Sunday, August 19
21.00 First match of the 2012/13 La Liga season, against Real Sociedad