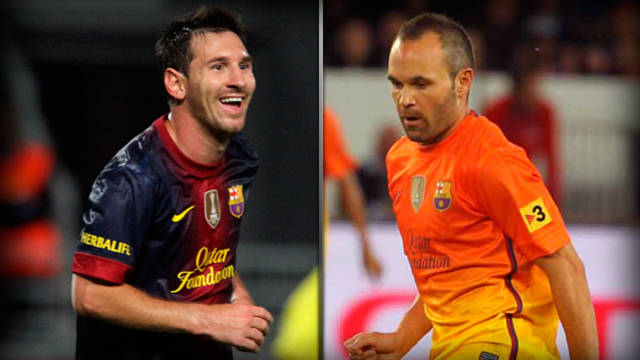 The two Barça players, together with Cristiano Ronaldo are in contention to receive the UEFA Best Player in Europe Award to be announced on 30 August
A shortlist of 32 players – which included 4 Barça players, Messi, Iniesta, Cesc and Xavi, has been whittled down to just three after the votes of 53 sports journalists were counted
Messi and Iniesta are in the final three for the UEFA Best Player in Europe Award for 2011/12. The Argentinean won the first edition of the award, given to the best player, regardless of nationality, playing in any of the European Federation's member leagues.
Messi ,winner of the Golden Boot and the leading scorer in the Champions League for the last four seasons, put in yet another extraordinary season, whilst Iniesta was part of Spain's Euro 2012 winning team and voted Player of the Tournament. The two will be joined in the last three by Cristiano Ronaldo with the winner to be announced during the Champions League draw on August 30th in Monaco. The voting will be held live and via an electronic voting system.
Xavi fifth
Xavi Hernández came fifth in the voting, which involved 53 sports writers from each federation, who submitted a top five, after coming third last year behind Andrea Pirlo (Juventus) and ahead of players such as Iker Casillas (Real Madrid), Didier Drogba (currently at Shanghai Shenhua), Petr Cech (Chelsea) and Falcão (Atletico Madrid).
Four Barça players amongst 32 nominated
The full list of 32 players nominated was published by UEFA on July 16th and include d four Barça players – Messi, Iniesta and Xavi, as well as Cesc Fàbregas.