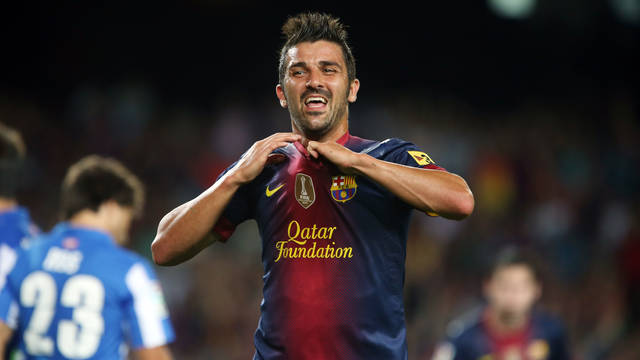 Puyol opened the scoring with a header after just three minutes
The Basques drew level six minutes later through Chory Castro
Barça hit back with two goals from Leo Messi to make it 3-1 within the first 15 minutes
Pedro and the returning Villa rounded off the scoring with goals at the end of each half
Tito Vilanova made a great start to his time in charge of the team after Pep Guardiola's departure with an emphatic 5-1 defeat of Real Sociedad with Puyol, Messi (2), Pedro and Villa – back from injury- scoring the goals. It was a dream start to the season for Barça who made their intentions clear from the off – now bring on the Gamper and Madrid in the Super Cup!
Electric start
After just three minutes of the new season kicking off at the Nou Camp, Barça were one up when Puyol headed home a Xavi corner. Real then put in their best period of the game and almost immediately Illarremendi nearly equalised before he set up Chory Castro who made no mistake – two goals within 9 minutes.
Messi brace
There was no time to reflect on that equaliser though – as two minutes later Leo Messi found a space amongst the Real defenders to open his league account – which he then doubled, putting away a Tello cross to make it 3-1 after just 15 minutes. Both Tello and Pedro were creating danger down the flanks and causing all sorts of problems for the Real defence and just before the break, the two combined just to make it four as the Spanish international put away another cross from the youngster from deep. It really couldn't have got any better from the Barça attack in the first 45 minutes.
Villa back in style
With Piqué on for Puyol at the start of the second half, Real came close to a second, but Messi was constantly threatening and looking likely to score. Iniesta came on for Cesc and David Villa received a tremendous ovation as he warmed up on the sidelines.
With fifteen minutes left, Tito sent Villa on and in a fairy tale ending he combined wonderfully with Alba to fire home for Barça's fifth and confirm the promising sensations at the Camp Nou tonight.