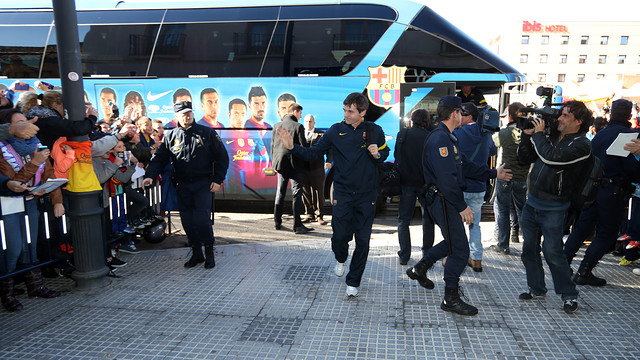 The team, with Tito Vilanova leading the way, landed in the Andalusian city a little after noon. Kick off at La Rosaleda is at 21.00
Barça will close out the first half of La Liga this evening away to Málaga. The team arrived in the Andalusian city a little after 12.00 PM. Tito Vilanova, who led yesterday's training session, also joined the team for the trip south and he'll be on the bench at La Rosaleda this evening. The manager has named 20 footballers to the team, among them Adriano, who was given the medical all-clear to play. David Villa, however, will miss the match due to injury.
Club vice-president Josep Maria Bartomeu and the director of football, Andoni Zubizarreta, accompanied the team to Málaga. Club director Pilar Guinovart, who didn't travel with the team, will meet up with the squad this evening.