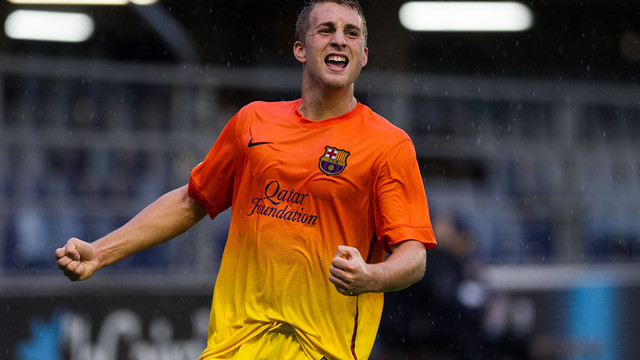 There's plenty of excitement surrounding the mini classico this Sunday (17.00) between the reserve teams of Barça and Real Madrid at the Mini Estadi.
It's been nearly 15 years since Real Madrid Castilla came to Barcelona – the last time was in 1998 when they lost 5-0.
With the first teams due to meet on the Spanish Cup next Wednesday, Barça and Real Madrid's B teams will give the fans an early taste of El Classico on Sunday when they meet at the Mini Estadi(17.00) in week 23 of the Second Division campaign. They may not be the first team, but there is sure to be plenty of quality on display with the two projects of La Masia and La Fabrica facing each other with a lot of pride and bragging rights at stake in a big match atmosphere.
Past winners
Barça B and Real Madrid Castilla have faced each other 16 times, with Barça winning seven of them and four ending in draws. The last time that they met in Barcelona was 15 years ago, on June 20th 1998 in the fifth game of the promotion play offs. Barça, who were coached by the legendary Josep Maria Gonzalvo –who has given his name to the ground of CE Mollet- featured then promising youngsters Xavi Hernandez and Carlos Puyol. The first game between the two in Barcelona was played at the Fabra i Coats ground in the Cup, when Barça B won 2-0 with goals from 'Tente' Sánchez and Durán, which despite losing the return game 3-2, was enough to get them through to the next round.
Contrasting seasons so far
Eusebio Sacristán's team are currently sitting in fifth spot in the league, two points off the promotion places (though they cannot of course be promoted), whilst the Madrid reserve team are in seventeenth, just four points off the drop zone. Barça B have had a good season so far with wins against ex-top flight teams Hèrcules, Sporting Gijón and Vilarreal and a draw against Almeria, as well as being the league's top scorers – thanks in large part to the contribution of Deulofeu who leads the league scorers alongside Riera and Jesé with 12. The second highest scorers are Real Madrid Castilla.