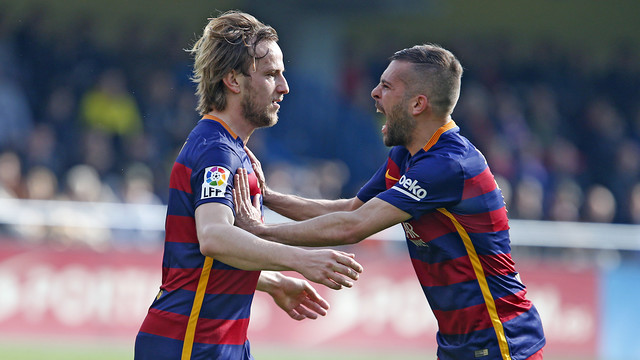 Villarreal answer back after first-half goals from Ivan Rakitic and Neymar; Barça extend La Liga lead to nine points
It wasn't the result FC Barcelona wanted, but they'll take it.
After riding a 2–0 lead into the intermission, FC Barcelona let Villarreal creep back into the game and even handed them a gift in the form a 63rd-minute own-goal that tied the score, sending both teams into a two-week La Liga hiatus with a single point that will have to make do.
For the Catalans, that point allows them to extend their league lead over second-place Atlético Madrid to nine.
Ivan Rakitic and Neymar both scored in the first half to stake Barça out to a 2–0 lead, but Villarreal drew level after the break on Cédric Bakambu's 57th minute strike followed by an own-goal off the chest of FC Barcelona defender Jérémy Mathieu.
Although the draw snaps FC Barcelona's 12-game winning streak in La Liga, their overall unbeaten streak remains intact and now stands at 39 games.
Villarreal — fighting for the league's fourth position and a seat at the table for next season's UEFA Champions League preliminary play-offs — came close to scoring in the opening minute when a three-player collision in front of the Barça goal sent a Roberto Soldado cross off the post before it was pounced on by goalkeeper Claudio Bravo.
FC Barcelona took a 1–0 lead on the stroke of 20 minutes when a Lionel Messi free kick from 30 metres caromed off Luis Suárez's back and fell straight to the unmarked Ivan Rakitic, who slotted in through a thicket of Villarreal defenders from the left of the penalty spot.
Villarreal manager Marcelino was sent to the grandstand in the 24th minute after inveighing against the referee for withholding what would have been Gerard Piqué's second booking of the day for controlling the ball with his arm. Minutes before, however, television replays had shown that Piqué's first booking for the same infraction was unwarranted.
Neymar gave Barça a 2–0 lead in the 41st minute after he was brought down inside the penalty area by Asenjo. The Brazilian lined up the penalty kick and, after a long approach to the ball, outfoxed Asenjo with a soft, 'Panenka'-style shot that floated softly into the middle of the net.
The Yellow Submarine finally got on the scoreboard in the 57th minute. Denis Suárez's initial shot was saved by Bravo, but the rebound came out too far and Bakambu cleaned up.
Neymar had a sublime opportunity to extend Barça's lead in the 62nd but was stoned by an outstretched Asenjo.
Villarreal drew level a 2–2 in the 63rd as FC Barcelona defender Jérémy Mathieu inadvertently redirected a corner kick into the net for an own-goal.
FC Barcelona's next game comes in two weeks, when they host Real Madrid at Camp Nou on Saturday, 2 April at 8.30pm CET.