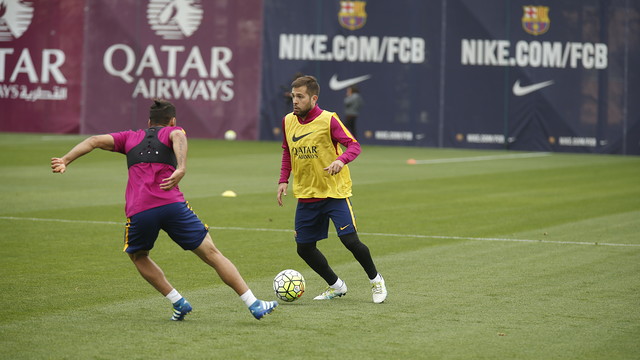 First team trains Friday morning after day off to continue preparing for this weekend's big derby
This Sunday at 5.00pm brings FC Barcelona's final game of the season at Camp Nou, a must-win derby meeting with city rivals RCD Espanyol with major implications in the race for the La Liga title. With a bit of help from Atlético Madrid and Real Madrid this weekend, a Barça victory would clinch the league championship.
And with all league fixtures this weekend scheduled to be played simultaenously, drama is assured.
In addition, Sunday's derby at Camp Nou will include a pre-game tribute to the recently passed Manel Vich, the Stadiums' long time public address man.
There will also be a 90,000 card mosaic displayed with the slogan 'Som-hi tots' (Let's go, everyone, in Catalan) intended to provide the players with an extra push ahead of this highly important match.
With Sunday's derby spectacle just over 48 hours away, the team held their second-to-last training session Friday morning to prepare for Sunday's big date with Espanyol. The players were given the day off on Thursday and will train again on Saturday morning to finalise preparations.
All available first team players were at Friday's workout, including Barça B players Juan Cámara and Kaptoum. Dani Alves trained on his 33rd birthday.
After Saturday's session, Luis Enrique will appear at his weekly pre-game press conference, scheduled for 12.30pm.
All times are in Central European Time (CET)