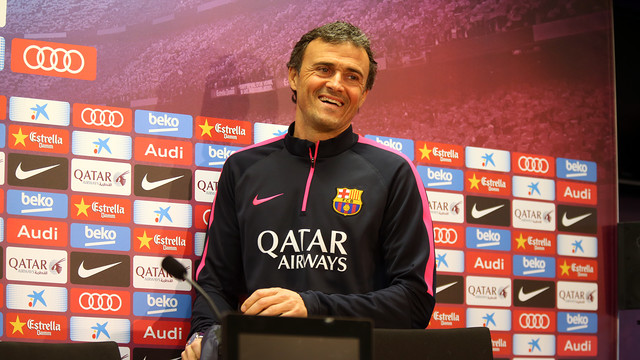 The FC Barcelona manager discussed a variety of different matters at his first press conference of the new year
Luis Enrique discussed the latest goings-on at FC Barcelona in his first press conference of 2015. The main topic was Sunday's game with Real Sociedad at Anoeta, where the team has not won a league fixture for four years. "We are hoping to get all three points from the game" said the FCB manager. "We are thoroughly looking forward to it and have taken on board what happened on the last four visits." Asked how he feels the Basque club has changed since the arrival of Scottish coach David Moyes, Luis Enrique said "they have gained in intensity and aggression when they have the ball … If we don't find our best game, we'll suffer. This will be a good test for us".
[[CITA_1]]In response to the ratification by the CAS of FIFA's decision to ban FC Barcelona from signing players, the first team boss admitted that "I wasn't surprised, although we would have preferred a different verdict. But that's the way it is and we'll have to deal with it. It shouldn't affect the way we work with the team. We have to keep going. This club has faced many unfortunate situations in the past and has always managed to get through them. This is a special situation that we have before us, but all we can do is concentrate on doing a good job."
[[CITA_2]]He went on to say that the fact that they can't sign anyone during the next two transfer windows "is good stimulation for our reserve players. This has opened a door for them. It's an invitation for them to show us how good they are … There are some players in the Barça B team that I like a lot. Barça always looks to its academy, so La Masia will be our source for players. In the B team, we put training ahead of results, and it's not easy when players are always being taken away for first team duty, but from what I can see, Eusebio is doing a spectacular job".
He was also asked about the players that have been farmed out on loan, and accepted that recovering them was always an option, although he preferred not to reveal any details. He also refused to give much away about what has been discussed regarding Dani Alves, whose contract expires at the end of the season, but did say that "I have been impressed his performances this year. You can see that from how he's been a regular starter. Given the TAS situation, we have to examine every possible departure with extreme caution".
[[CITA_3]]Luis Enrique's new year wish is simply for "everyone to have the best possible year," and in strictly sporting terms, he's convinced that the next few months are going to fruitful. "But it's too early to start saying that there's no margin for error" he remarked when asked whether that was the case. "The other teams will drop points along the way for sure. There's a long way to go in the league and there will be all kinds of results. The teams just below the leader have plenty of time to get back into contention. In fact, we are in contention now."
He was also questioned about the relatively late return of his players from their winter break compared to other clubs, especially with such a busy January schedule ahead. "We are used to playing games every three days" he answered. "The players deserved a holiday in order to recover both physically and mentally."
This club has faced many unfortunate situations in the past and has always managed to get through them
Barça always looks to its academy, so La Masia will be our source for players
It's too early to say there's no margin for error. The other teams will drop points along the way