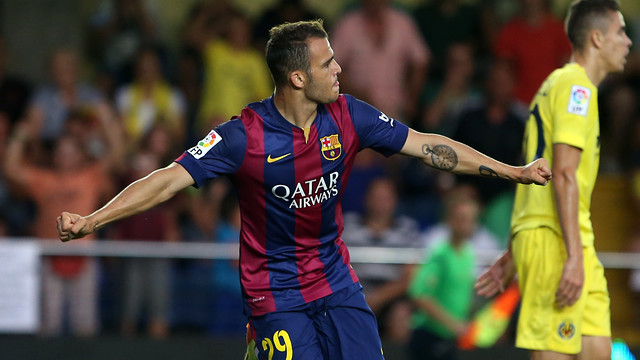 The Canary Islander couldn't have hoped for a better first team debut, scoring the only goal of the game to take three points from the trip to Villarreal
Last week everyone was talking about Munir after his amazing first team debut performance, and seven days later it's another product of the B team that's grabbing all the headlines. 19 year old Sandro Ramírez was sent on by Luis Enrique as a late replacement for Pedro in a tense game with Villarreal that looked to be heading for a stalemate. His eleven minutes on the field were enough for him to score what would be the only goal of the game and clinch three vital points for his team.
He and Munir, who got on the scoresheet last week at home to Elche, are the two youngest players to have scored in La Liga this season.[[CITA_1]]
Sandro was naturally delighted with the way he had played, but preferred to comment on "the hard work done by the team as a whole. We had so many chances and none of them went in. But we got there in the end after a great move by Leo Messi … The goal was the result of the job we all did and we can leave El Madrigal feeling very happy with the win." He also revealed that he's dedicated the goal to his family, adding that "Luis Enrique is a great manager. He uses the youth players and we are trying to make the most of those opportunities. The game was good all round for us".
This wasn't actually Sandro's first goal for the Barça first team, as he was also on target against Club Leon in the Joan Gamper Trophy match. But this was his first in a competitive fixture, and there's little doubt that the last day of August 2014 is one he's never going to forget.
The goal was the result of the job we all did and we can leave El Madrigal feeling very happy with the win