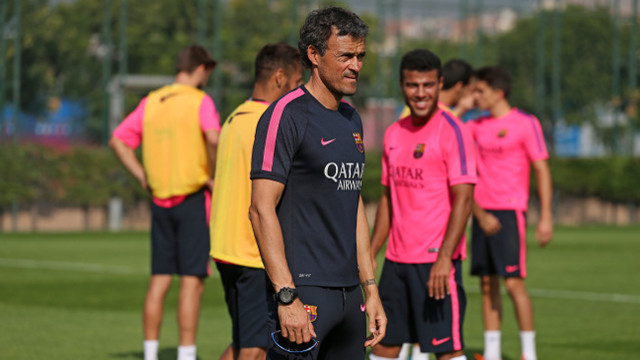 The FC Barcelona coach was describing Saturday's game against a team he knows almost inside-out
"They're a dangerously effective team" he commented. "They don't speculate"
Luis Enrique doesn't believe that Celta will either be an especially easy game to prepare for, because he knows the team so well, or a particularly hard one because of the quality of one of the surprise packages of the Liga season so far and who have yet to lose an away fixture. "But there's no doubt that Celta is a very special match for me because I know all the players" said the man who was in charge of the Vigo based club before coming to Barça in the summer.
Speaking in his pre-match conference on Friday, he described his admiration for what Eduardo Berrizo has added to the Celta side. "They're a very dangerous and effective team" he commented. "They don't speculate. They try to hold onto the ball and create a lot of pressure. I'm delighted that they're having such a good season. They're showing that both in their football and their results. I have very fond memories of Celta. It's a small club with big values."
"They are very good at playing as a unit and are solid in defence" he continued. "They fight back every time they lose the ball, and that's what makes them so dangerous. It's going to be difficult match but the objective is the same as ever. To play well and win."
Luis Enrique also dismisses the idea that there's a sense of negativity in the team after the painful defeat to Real Madrid at the Bernabéu. "The team has trained hard this week, with the same intensity as they would any other" said the Asturian. "Defeats hurt, there's no question about that, but over the course of a season you're going to have to deal with all kinds of situations. It's not until the end of the season that you can really say whether a team deserves one thing or another. But, all things considered, we're top of the league at the moment."
However, he still admits that "we need to keep improving. We need to be able to generate situations that cause a certain amount of danger to the opposition. We need be ready to make the most of each different circumstance and become more unpredictable as a team." That, he explained, is the main reason why he keeps varying his starting elevens. Unpredictability and versatility are two of the most important things that he wants from his squad.
There was also mention of Luis Suárez, who could be appearing in his first official fixture at the Camp Nou on Saturday. "He's training very well and at a good rate" said the FCB boss. "We'll now be getting the chance to see him playing in matches, and that's when you can really judge him as a player."
Defeats hurt, there's no question about that, but over the course of a season you're going to have to deal with all kinds of situations
We'll now be getting the chance to see Luis Suárez playing in matches, and that's when you can really judge him