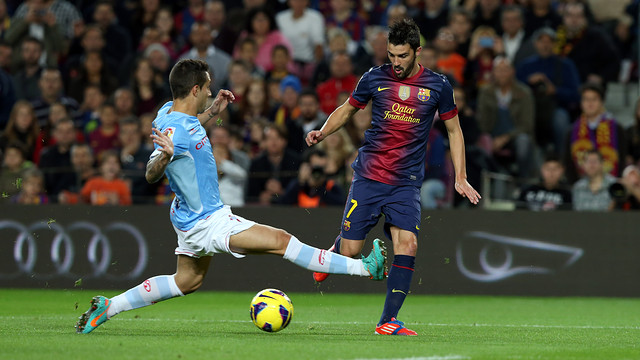 FC Barcelona are the team with the most goals scored this season in La Liga (39) and the second highest goalscoring team in the history of the Club in the first 12 weeks of the competition
The goalscoring mark set by Tito Vilanova's men means that they are level with Helenio Herrera's 1959/60 team are only bested by the 42 goals scored by Daucik's Barça in 1950/51.
Messi, top scorer with 17 goals, has scored more goals than 12 top-flight teams
Barça are dead set on winning the 2012/13 Liga title. They remain undefeated in the competition and have won 34 out of 36 possible points.
The Blaugrana have scored 39 goals from their 12 La Liga matches, averaging 3.25 goal per game, which makes them the most effective team in front of goal – beating out Real Madrid, who have 32 goals.
Taking a look back, the men managed by Tito Vilanova came very close to breaking the mark set by Fernando Daucik's Barça, the Barça team that scored the most goals in Spanish football history in the first 12 games of the competition (42). This year's team are just behind Daucik's legendary squad (1959/60) and level with Helenio Herrera's men, who also scored 39 goals from their first 12 Liga matches.
Messi, Barça's goalscorer
Of Barça's 39 goals this season in the Liga, 17 have been scored by Leo Messi. This feat not only makes the Argentine the team's top scorer, but it also takes him to the top of the goalscoring list of the domestic competition, five more than Cristiano Ronaldo, who's in second place with 12 goals. Another curious fact: Messi has more goals than 12 top-flight teams.