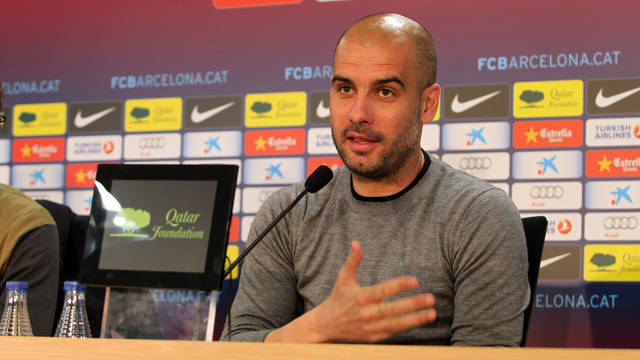 The Barça manager has emphasised that winning 13 out of 16 titles is the merit of the players. "This is all down to the athletes, who have performed so well over the whole period"
"Nobody's gifted us anything. What we've won we've won with a lot of hard work"
Turning to Sunday's match, Guardiola told reporters that new Racing manager Álvaro Cervera added an unknown factor to the preparations
Speaking at the pre-match press conference ahead of the game against Racing Santander, Josep Guardiola insisted that all the successes of FC Barcelona over the past four years are exclusively the responsibility of the quality and hard work of the players.  However, he emphasised that the fact that Real Madrid lead the way in the league by a margin of ten points is also a reflection of their merit.
"Winning 13 out of 16 titles is all down to the athletes.  In the end this game always belongs to the players.  We've won because we've got some fantastic players.  This is all down to the athletes, who have performed so well over the whole period".  No doubt speaking with Jose Mourinho in mind, Guardiola made it quite clear that it is the players who win the titles.
Along the same lines, and bearing in mind recent comments by former Club vice-president Alfons Godall, Guardiola said: "Godall knows, as do Rosell and Florentino, that we have won because we've competed with hard work.  It's very bad for football if the merit doesn't go to Messi and Cristiano. We've won so much because we've been better than the rest.  If Madrid are ten points ahead it's because they've been better and we have slipped up.  We accept responsibility.  And if I say we won't win the league it's because making up that gap with Real Madrid is very difficult, as it is to referee."
However, Guardiola is used to this kind of pressure: "We've been like this for four years, always being under suspicion in everything we do for different reasons.  This year's no exception.  It's always for reasons that are not down to our team."
A reply to Mourinho
Guardiola was also very clear in his reply to comments made by José Mourinho: "Yes, he may have been referring to me.  I hope he says the name next time.  Everybody understood that he was going for me.  We're alike in that we both want to win, there's no doubt about that.  If I've behaved like him in other respects then obviously I'll have to change my ways.  I don't feel that he's like me.  There are words and images for anything.  There are thousands of press conferences.  Our paths are very different. We have always been honest. If in the end it really is like that I'll have to think harder and try to see where we've failed. My aim is not to put my Club and players in a bad light.  I try not to make people ashamed of me as well as to generate a good atmosphere in my team."
Asked about recent insinuations that relations with the Spanish Federation could have an influence on the referees' decisions, Guardiola replied: "If that's the way it is, then the system of refereeing has a big problem. Barça and the rest of the teams have an obligation to maintain a good relationship with the Federation. Referees have been put under a lot of pressure and the president of the Spanish Football Federation should step forward and make a stand. He should come out and say that you win because of Messi, Cristiano and Mourinho, because if not it seems that you win because you're a friend of Angel Maria Villar (president of the Spanish Football Federation) and then we would have to talk about his buy-out clause".
Santander coach an incognita
As for Sunday's match against Racing Santander, Guardiola revealed that Barça has very little information due to the fact that manager Álvaro Cervera has only recently taken over: "We'll go there without much information. The only thing in our hands is to win our match in Santander. That's the only thing we can control. Santander is always a tricky ground and even more in the situation they're in".