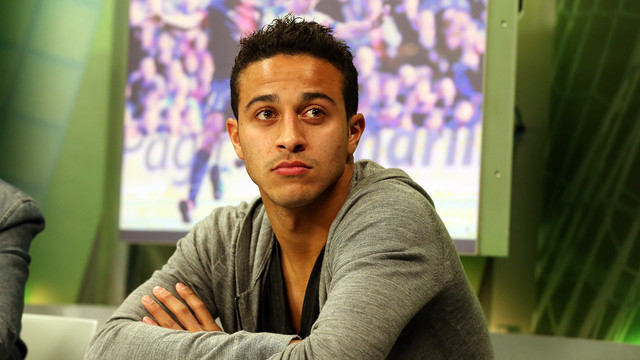 The midfielder was the guest on El Marcador on Barça TV after the 6-1 win over Getafe, and made it clear that the players are happy to play at any time
The older Alcántara brother also spoke about how much he enjoys playing alongside Iniesta, who was so outstanding on Sunday

Clam week
Barça now have an unusually tranquil week ahead of them, with no midweek fixture to contend with. That means they'll two days off before returning to work on Wednesday. But this is just the quiet before the storm, for the month ahead included the return of the Champions League and AC Milan, plus the second leg of the cup semi final with Real Madrid. Given what there is to come, Thiago said that "I'm glad we have no game this week because it gives us the chance to get some rest before some big matches".
"It's a privilege to see Iniesta on the field and I'm trying to learn as much as I can from him as possible"
Thiago Alcántara was the guest on El Marcador on Barça TV after the 6-1 win over Getafe, the first FCB game to be played at the new Sunday lunchtime spot. It ended 6-1 and the midfielder said afterwards that "we are well adapted to that time because it's when we normally train … If we have to play at 12 again, we'll do so with pleasure. We are happy to play at any time".
The early start certainly didn't keep the fans away Camp Nou. In fact, 85,610 was the third biggest attendance of the season, with very distinct family flavour. "It was the perfect atmosphere" said Thiago.
Pleased with contribution
With Xavi Hernández out through injury, Thiago started against Getafe and did a good job. On a personal note, the older of the two brothers said "I happy with the chances I'm getting, and think I'm performing well … I'm enjoying watching my team mates, but obviously what I really want is to get as many minutes as I can. But I think the time is being shared out very well".
The Hispano-Brazilian couldn't avoid mentioning his team-mate Andrés Iniesta, who was a prime candidate for man of the match against Getafe. Said Thiago "it is a pleasure to watch and play with Iniesta. It's a privilege to see him on the field and I'm trying to learn as much as I can from him as possible".