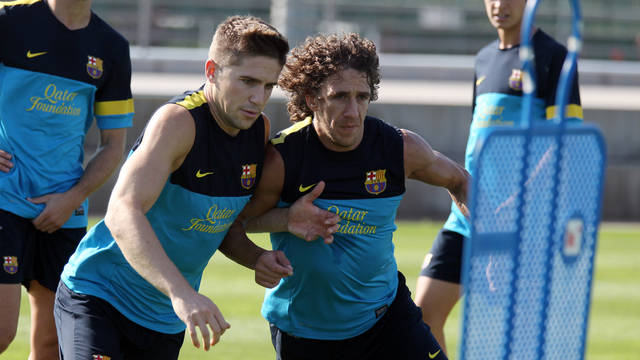 Barça have begun a week of training that will be marked by the absence of the 17 players called up for international duty
Just five senior players were on hand for this morning's training session -Puyol, Thiago, Fontàs, Pinto and Dos Santos – plus 10 from Barça B
Training resumed on Tuesday morning after Sunday night's narrow victory over Valencia and a day's holiday on Monday. With the league programme taking a break in favour of the international fixtures, just a handful of players were available.
Ten players from Barça B
With only five players reporting for training from the first team squad-Puyol, Thiago, Fontàs, Pinto and Dos Santos- Vilanova took the opportunity to include ten youngsters from the reserves: Quintillà, Miguel Angel, Masip, Gustavo, Patric, Roman, Luis Alberto, Sergi Gomez, Espinosa and Dongou.
The next training session will be on Wednesday at 10 am. However, Tito Vilanova will be away in Nyon at the 14th UEFA Elite Club Coaches Forum.