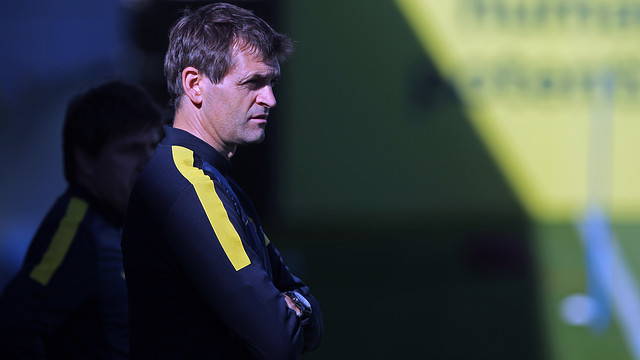 The boss insisted that Messi, who missed training this morning, will be available for Saturday's game against Celta
About Piqué: "will be back in training with the rest of us in a few days' time"
"Piqué had two days of hard training and it's just a matter of a few days before he is back working with the rest of us"
"Celta like to hold onto the ball for a long time and start their moves from the back. We need to steal the ball deep if we want to stop them making us run"
Leo Messi was given permission by the Club to miss this morning's training, so that he could deal with a personal matter, but Tito Vilanova explained to this lunchtime's press conference: "in principal he will be okay for the game. It's no big deal that he misses one day's training".
"We have to be on top form"
Tito Vilanova also refereed to this weekend's rival Celta, who currently sit in 13th spot: "they like to hold onto the ball for a long time and start their moves from the back. We need to steal the ball deep if we want to stop them making us run. Celta will try and play football and we will have to be on top form to beat them.". The boss also admitted he had" some good memories" from his time as a player with Celta: "they always treated me really well".
Piqué back soon
Vilanova also revealed that Gerard Piqué, who has been out for a month, is getting closer to making his reappearance: "he's had two days of hard training and it's just a matter of a few days before he is back working with the rest of us. It's important that we start to get players back in his position, especially with Carles Puyol also out". Finally the boss expressed his satisfaction with Alexis Sánchez, claiming: "he always does what I ask of him".