News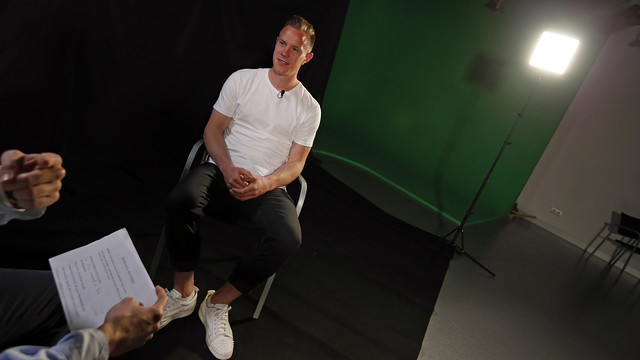 In an interview with the FC Barcelona media, the German goalkeeper confirms that he wants to stay at the club and looks forward to the last three games of the season
Hoping to stay
Ter Stegen joined Barça from Borussia Monchengladbach in 2014 and two years later, he's feeling right at home in Catalonia. He's got the hang of Spanish and is also making good progress with his Catalan. "It's a lovely place to live" he says. "I feel fine here and want to stay at this club, and carry on with this nice life that I have."
He's only 24 but Marc-André Ter Stegen already has an impressive set of medals from his time at FC Barcelona. And in the next few weeks he hopes to add two more. "We'll see how things happen" he says in an interview with the club media. "But we have a good opportunity to win the league and the cup as well."
"There was a time when we had nine points more than the others" he sighs. "But that's life, that's football, you can't relax. We are still in a very good way. We have two matches more and every possibility to win the league … We all want to win it. We want to prepare as well as we can for these matches."
Ready for the derby
Despite the setbacks in April, Barça are not relying on other results going their way, and so the German stopper thinks it would better for the team just to focus on its own matches. "Atlético Madrid and Real Madrid are pressing from behind and they will both fight for the title until the end. But we just have to concentrate on our own tasks."
And the first of those tasks is Espanyol, and Ter Stegen knows that playing at home gives them a massive advantage over their local rivals. "With our fans behind us, we are much stronger" he says ahead of the last game of the season at the Camp Nou.
And with doubts over Claudio Bravo's fitness, the German stopper is ready to step in if needed. "Me, Claudio and Jordi Masip all want to play and we work hard every week to do that" he says. "I think that's the right idea for the team, for us all to be ready all the time."
Barça highlights
Marc-André started out as a striker, delivering practice shots at his brother, who was a goalie. He feels that experience helped him later when he decided to follow suit and don the gloves too, and probably explains why he is so skilful with his feet. Training with the likes of Messi, Suárez, Iniesta and Neymar every day has also helped him to improve his footwork.
And finally, when asked to pick his standout moments since joining Barça, he named two. One was the first time he played at the Camp Nou and the second was his spectacular save against Lewandowski (below) in the Champions League semi-final second leg last year.