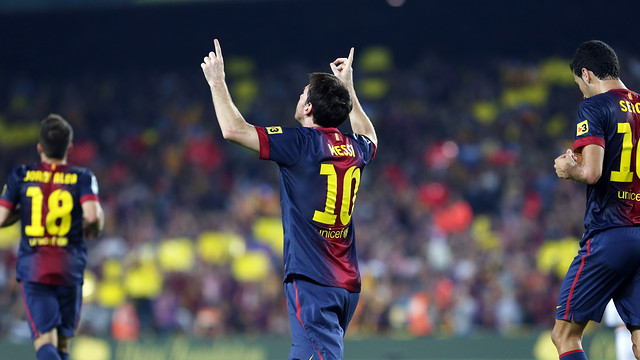 On this week's RoungUp we learned that figuring out the best Barça team of all time might be tougher than we originally thought, what the FC Barcelona Women's Team have been up to off the pitch, and the challenges that Tito Vilanova faces as the senior team's manager
Picking Barça's all-time best
"The hardest part of choosing an all-time best XI for Barcelona is figuring out who to leave off," writes Grant Wahl for Sports Illustrated. The SI senior writer set off on the enviable -and extremely difficult- task of figuring out Barça's best team of all time. For some it might be incomprehensible that Mr. Wahl's line-up doesn't include the likes of "Diego Maradona, Ronaldo, Rivaldo, Romário, Luís Figo, Michael Laudrup, Samuel Eto'o, Luis Enrique, Thierry Henry or Hristo Stoitchkov." But he makes the valid point that "you can only put 11 players on the field, and it's a measure of the remarkable players Barcelona has had over the years that those guys wouldn't make this list." You can check out Mr. Wahl's all-time best XI here.
Girl Power: Worldreader and FC Barcelona Women's Team
"I had the privilege of being in Ghana when the kids turned on their e-readers and saw personal messages from global soccer legends, like Messi, saying, 'To Rita from Messi: Champions Read.'  The excitement was thick in the classroom — as if Messi had somehow entered the room and made eye contact with each kid. A wide-eyed, 14-year-old girl named Deborah asked me, 'Does Messi know who I am?'  'Yes,' I told her," says Worldreader's Susan Moody. That happened  in May of this year.
Fast forward six months and it brings us to today: "We spoke to FC Barcelona about their awesome women's team, who won the national championship in 2012. Reading about the players is impressive. It's clear they are an incredible group of women and are wonderful role models for younger generations.
"So, we're thrilled today to share with you some great news. Last week, we pushed images of the Barça women's team onto our kids' Kindles. The reaction was amazing, just like it was in May. Girls and boys alike were stunned that there was a female team. We're so happy that our girls are seeing messages like Education+Girls= MOTIVATION!"
Read the rest of Susan Moody's report here, and find out about FC Barcelona's relationship with Worldreader here.
Vilanova, Guardiola and the Clásico
In his BBC Sport piece, Andy West takes takes a look at Tito Vilanova and the challenges the manager faces after his elevation to the helm of the senior side. Mr. West notes that "Vilanova is polite, diplomatic and always steers well clear of controversy.
"He is certainly not lacking passion, though – that much was evident from his fist-pumping celebration when David Villa netted a stoppage-time winner at Sevilla last weekend." But "Although Barca's winning run means we have not yet seen how Vilanova will respond to adversity, his confident demeanour and calm authority suggest he will have no problem in rising to the challenge when that time comes."
You can read the complete article here.