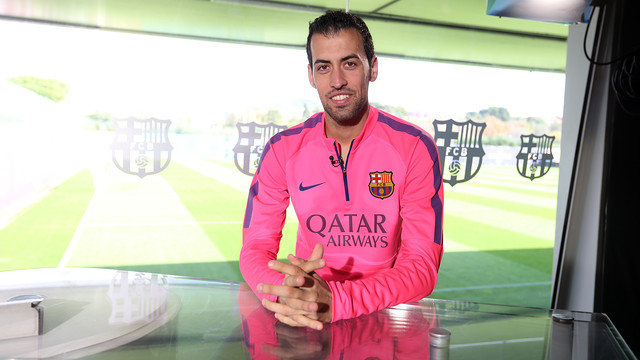 "When I came to Barça I never imagined things would go so well" said the midfielder after his 300th appearance. "It's been everything I ever dreamed of and more"
Barça midfielder Sergio Busquets made it to 300 official appearances for the first team on Sunday evening. In six years he has won every major title available. Describing how it feels, he said "when I came here I never imagined it would go so well, I'm very happy, and hungry to play even more games. It's been everything I ever dreamed of and more".
Thinking back to his debut, he remembers that "I was very young and had high hopes. I really wanted to make the most of the chance that Pep gave me, and to enjoy sharing a dressing room with the kind of players who not long before then, I had only ever seen on television. I think I'm the same player that I was six years ago, but I'm more experienced now. Playing so many games means you get to know everything that happens not just on the pitch, but off it as well".[[CITA_1]]
This season, Busquets has been wearing the number five shirt, which he inherited from its previous incumbent, Carles Puyol. "I had a chat with Carles and it was something very important for me" he explains. "It was an honour for a team-mate like him to say that he wanted me to take the number five from him. Obviously it made me very proud".
Now that Puyol has left, Busquets has become the team's fourth captain. "Whether you like it or not, that means you have to take on new responsibilities" he says. "You have to be that bit more implicated, and I'm really happy about that".[[CITA_2]]
Leo Messi was also promoted to a captaincy role, and Busquets is thrilled to be playing in the same team as such an amazing player. "Messi is the best player in history" he claims. I wasn't around 50 or 100 years ago, but I think he's the best because of the things he does and the records he's breaking almost every day. It's impossible to find anyone else with a talent like his."
After Sunday's derby win, that's seven consecutive victories for FCB, and Busquets is pleased that the season seems to be going so well. "Luis Enrique is a coach who knows what he wants and who knows the club" says Sergio. "We're adapting to him well. I think the team's approaching full maturity under him. We are more solid and that makes it harder for our opponents. Hopefully we'll be up there fighting for titles".[[CITA_3]]
He ended with words of praise for Xavi Hérnandez and Mascherano. He described the latter as "one of the best players in his position. He's a very complete footballer and gives all he has for the team. It's an honour to be in the same squad as him and I've learned a lot from him." And on the Barça first captain, Busquets commented that "he's one of the best team-mates I've ever had. He's very professional. He is very implicated with the team and he always helps us. He's very positive."
It was an honour to inherit the number five shirt from Carles Puyol
It's impossible to find anyone else with a talent like Messi's
Xavi is one of the best team-mates I've ever had