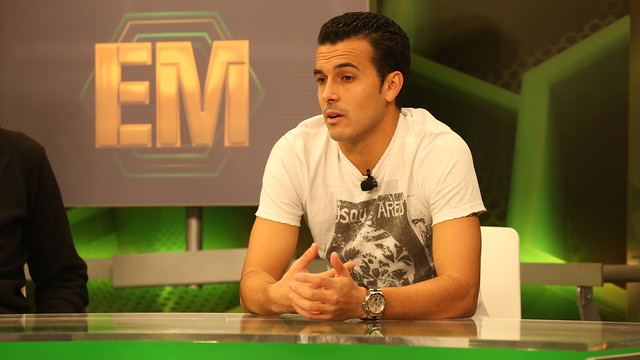 The Barça forward sits down to discuss his team and what they need to do as the year winds down
He says he's focused on scoring and making the most of his minutes when he plays

Barça's 5-1 derby win over Espanyol at Camp Nou, complete with a Leo Messi hat trick and goals from Gerard Piqué and Pedro Rodríguez, did not disappoint the fans.
Afterwards, Pedro visited 'El Marcador' on Barça TV: "We're confident after good games against Valencia, Espanyol, two tough rivals; this is how we have to close out the year."
The forward wasn't so lucky early on in the season, but he looks to be finding the goal with more ease. "Scoring is important but I really need to take advantage of whatever minutes I do get."
Barça's only objective from now until Christmas is to win football games: "Winning every game is fundamental. We play Paris, which is tough, but we also have the Spanish Cup."[[CITA_1]]Pedro also spoke about Messi and his decisive role on the team: "Messi is always spectacular. With somebody like him who can change a game in an instant, you always have to keep that in mind out on the field."
He also talked about his direct competition: "Going up against Suárez, Neymar and Messi is not easy but I take it in stride. I try to learn from them every day and then use that to help anybody I can. I've always had great teammates here at Barça and have always had to perform at a high level."[[CITA_2]]In last Wednesday's win at Huesca, Pedro scored a goal and then dedicated it to Martín Montoya. "People didn't understand it, I did it because we get along well and like to joke around in the dressing room. Today I dedicated the goal to Jordi Alba because he made such a great pass," he explained.
He concluded by talking about this week's clash with PSG: "We know it's going to be tough which is why we really need the crowd to get behind us."
Winning every match is a fundamental objective
Scoring is big, but I really have to make the most of my opportunities