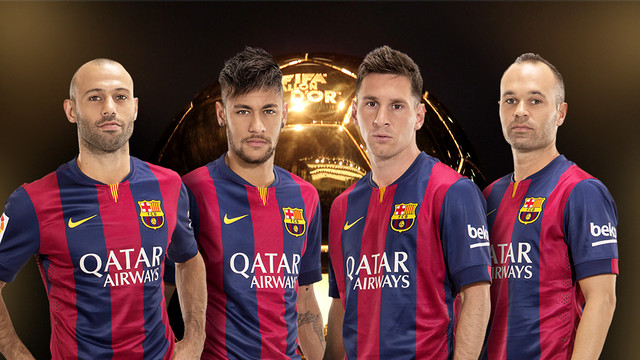 FIFA and France Football have announced the shortlist of 23 players who are in contention for the award
The winner will be revealed in Zurich on the 12th of January
Four Barça players have been shortlisted for the FIFA Ballon d'Or 2014. They are Leo Messi, Neymar Jr, Andrés Iniesta and Javier Mascherano. FIFA and France Football magazine announced on Tuesday morning those players nominated for the award which is given to the best player of the calendar year.
The final decision will be taken by the coaches and captains from every single national team around the world as well as by journalists from France Football via a system of votes. On the 1st of December the final shortlist of the three finalists will be made public.
The winner of the Ballon d'Or 2014 will be revealed on the 12th of January, 2015 during a gala ceremony which will take place in Zurich, Switzerland. On the same day the award for the best goal of 2014 will be announced as will the players selected for the FIFPro Wordl XI.
These are the 23 players shortlisted for the FIFA Ballon d'Or 2014:
Gareth Bale, Karim Benzema, Diego Costa, Thibaut Courtois, Cristiano Ronaldo, Angel Di Maria, Mario Goetze, Eden Hazard, Zlatan Ibrahimovic, Andrés Iniesta, Toni Kroos, Philipp Lahm, Javier Mascherano, Lionel Messi, Thomas Müller, Manuel Neuer, Neymar, Paul Pogba, Sergio Ramos, Arjen Robben, James Rodriguez, Bastian Schweinsteiger and Touré Yaya.