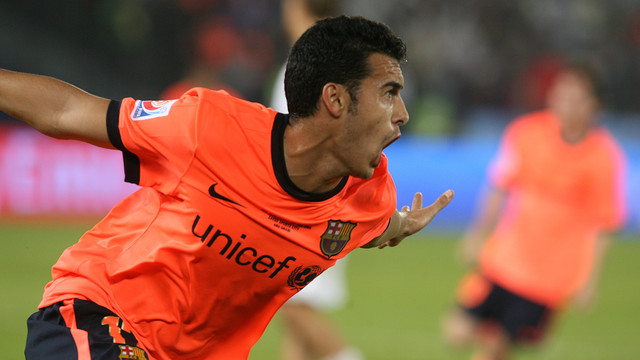 Pedro joined Barça in the Summer of 2004 from CD San Isidro from Tenerife to play in the U18's
After ten seasons with the Club, Pedro Rodriguez is well established in the first team and has won every trophy possible

Ten years ago FC Barcelona signed a player who has achieved glory in the game, coming up through the ranks. Pedro Rodriguez, the current Barça number 7, came to Barcelona from his hometown,Tenerife. He left CD San Isidro to join the Barça U18 A team at age 17, and soon made a name for himself in the youth ranks of the club.
Climbing the ladder to the first team

After playing for the U18's A team and Barça C, Pedro consolidated his place in the Barça B team. In the 2007/08 season he achieved promotion to the Second Division B under the leadership of Pep Guardiola. That year he also debuted with the first team: Frank Rijkaard picked him to play in two league games at the Camp Nou. The following season, with Guardiola now in charge of the first team, Pedro began to play matches, taking part in a total of 14 games. Finally, in the summer of 2009, Pedro signed his first contract as a first team player
So, in just five years, Pedro went from playing for San Isidro, in Tenerife, to the Barça first team. That first season Pedro also made history: he became the first footballer to score in six different official competitions, la Liga, Spanish Cup, Champions League, Spanish Super Cup, European Super Cup, and World Club Championship. He was, in fact, the revelation of that particular season..
Consolidation at the top level

Since then Pedro's career has just kept on flourishing. He became fully consolidated in the first team and became one of Barça's main strikers. Between 2009 and 2014, Pedro has scored 87 official goals for Barça in a total of 253 games. In his ten years at the Club he's won every title possible: 4 League titles, 2 Champions Leagues, 2 Spanish Cups, two European Super Cups, four Spanish Super Cups and two World Club Championship trophies.
Aside from Barça, Pedro has also become an important player in the Spanish National team. After making his debut on 29th of May 2010, he won the World Cup in South Africa that same year, and the European Championships in 2012, in Poland and the Ukraine