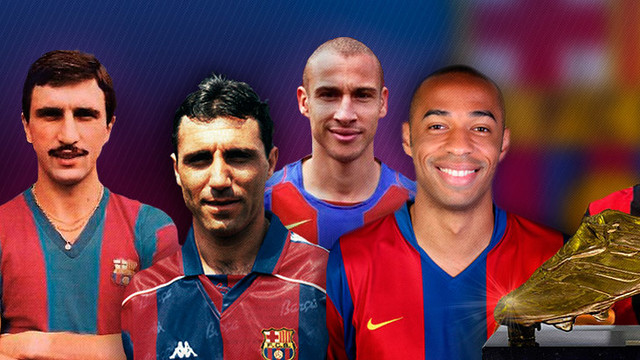 Krankl, Stoichkov, Larsson and Henry all won the Golden Boot before signing for Barça
Luis Suárez has become the fifth former winner to join the club
Some of the world's finest goalscorers have been signed by FC Barcelona over the years. After impressing at other clubs around Europe, they have come to the Camp Nou to continue doing what they do best. Put the ball in the back of the net.
Luis Suárez is the fifth person to join Barça after previously being crowed the top goalscorer in Europe. The Uruguayan topped the charts in last season's Premier League and shared the 2013/14 Golden Boot with Cristiano Ronaldo, both with 31 goals.
From Krankl to Thierry Henry
Hans Krankl was the first former Golden Boot winner to come to the Catalan giants. He joined the club for what would be three seasons in 1978 after scoring 41 goals for Rapid Vienna the previous year (1977-78). In December 1978, he was also named second best player in Europe, and in his first Liga season scored 29 goals to top the goalscoring charts in Spain and finish third top scorer in Europe. He was also one of the stars of the European Cup Winners Cups Final in Basel.
Nine years later, in July 1990, Hristo Stoichkov signed for FC Barcelona after sharing the Golden Boot with Hugo Sánchez, thanks to his 38 goals for CSKA Sofia. One of the most iconic members of Johan Cruyff's Dream Team, he won the Ballon d'Or in 1994. After five years at Barça, he would leave with FIFA still considering him the second best player in the world.
In 2004, almost a full decade later, Henrik Larsson came to Barça after winning the Golden Boot with 35 goals for Glasgow Celtic in 2001. He won back-to-back league titles at FCB in 2004/05 and 2005/06, while also winning the Spanish Super Cup and providing assists for both goals in the 2006 Champions League Final.
The last former winner to arrive, until now and Luis Suárez, was Thierry Henry. The Frenchman joined Barça after winning the Golden Boot in both 2004 (30 goals) and 2005 (25 goals) in an Arsenal shirt. Playing under Frank Rijkaard, he scored 19 goals in his first season, and played a key role in the famous 6-2 win at the Santiago Bernabéu, and in achieving the treble of the Liga, Spanish Cup and Champions League.