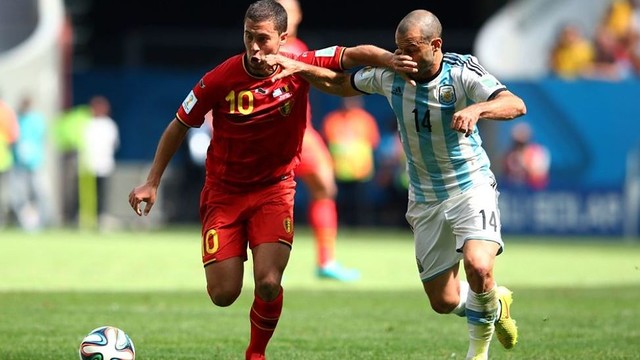 Mascherano, Messi and Neymar Jr have started in all five games for their respective countries thus far in the competition
Mascherano, Messi, Alves and Neymar Jr are the four FC Barcelona players still in the World Cup. Now that the quater-finals are over, it's time to take a look at how the four players faired in the tournament thus far:
Javier Mascherano. He has started in all five of Argentina's matches and he's one of the few players on the squad that has played every single minute of the World Cup thus far. In addition, he's also the player with the second most attempted passes in the tournament (465), he's only surpassed by Germany's Philipp Lahm (471). Mascherano is the also the player with the second most completed passes (406).
Leo Messi. The Argentina captain has also started every match of the tournament, and was only subbed off in the dying minutes of the match against Nigeria. He's been named Man of the Match in four of his country's matches and has scored four goals – leaving him one adrift of the top scorer, James Rodríguez.
Dani Alves. The right back has played 390 of the 480 minutes of the competition for Brazil. He's part of the highest rated defence in the tournament, Brazil's, according to FIFA. He only missed out on the quarter-final showdown against Colombia.
Neymar Jr. The forward has led Brazil all the to the semi-finals of the competition. He's attempted to score on 18 occasions, and of those attempts 13 have been on goal. He's won two Man of the Match awards and has scored four goals. The injury he picked up in the quarter-final match against Colombia will impede him from featuring again in the World Cup.