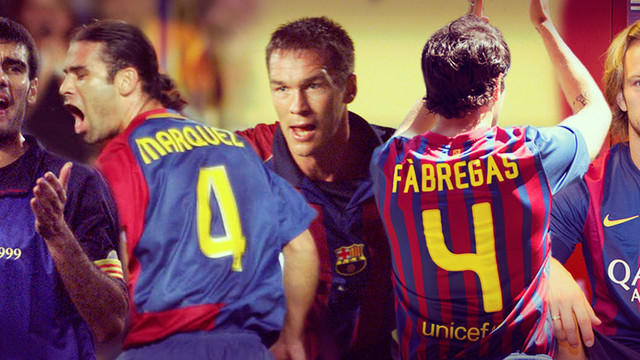 From the time that shirt numbers became fixed, Guardiola, Andersson, Márquez, Cesc, and now Rakitic will have worn the Barça number 4
During his presentation it was revealed that Ivan Rakitic will wear number 4 on his back. Since players' shirt numbers became fixed in the Spanish League (in the 1995/96 season), five players will have worn the number 4 shirt. Here are Rakitic's predecessors.
Pep Guardiola (1995-2001)
The first player to choose the number 4 shirt was Pep Guardiola. Guardiola took over from the player he admired, Ronald Koeman, who had normally worn the number 4 between 1989 and 1995. Guardiola was the team playmaker, in front of the defence, following the Dutch football philosophy of the time, where the playmaker wore number 4. He kept the number until he left the Club, as a player, in 2001. Rakitic recognised that he chose the number 4 because Pep was the player he always looked up to.
Patrick Andersson (2001-03)
The Swedish international defender came to the Camp Nou after tasting success at Bayern Munich, and took on the challenge of inheriting the number 4 from such a Barça icon as Guardiola. The central defender was an elegant player and great in the air, but injuries prevented him from showing his real quality at Barça. In three seasons he was only able to play 19 League games for the Club.
Rafa Márquez (2003-10)
Andersson passed on his shirt number to Rafa Marquez when the Mexican signed for Barça. Marquez, known as 'The Kaiser', began playing in midfielder but later moved to central defence, where he formed impressive partnerships with both Puyol and Pique. Marquez had a great long pass, superb positional play, and was very reliable from dead-ball situations. In seven seasons he won four La Liga titles and two Champions Leagues, and played in 242 official matches, scoring 13 goals.
Cesc Fàbregas (2011-14)
After Marquez left the Club, the number 4 was without an owner for a season, until the arrival of Cesc Fabregas, who took the number 4 in honour of his childhood idol, and now his coach, Pep Guardiola. Of all the players who have worn the number 4 in recent times, Cesc was the one who played in a more advanced position, as he alternated between attacking midfield and false number 9. Cesc's time in the Barcelona first team officially came to an end a few days ago, after having played 151 matches, and scoring 42 goals.