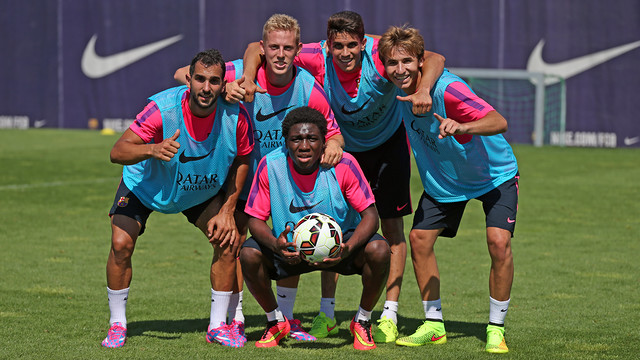 Luis Enrique's team will make their 2014/15 debut in Huelva at 8:45 PM CET
Masip and Ter Stegen will most likely play for FC Barcelona for the first time
Barça will write its first chapter of the 2014/15 season this evening. They will do it a the Nuevo Colombino, against Recreativo de Huelva. A historic rival will test Luis Enrique's new FC Barcelona.
No Rafinha
The match, which will celebrate Recreativo's 125th anniversary, will feature seven first team players and 16 Barça B players. In the end, Rafinha was unable to make the squad due to the minor injury he picked up in training, while Adriano, who is out of action for 4 to 6 weeks, also didn't make the team.
Therefore, it's very probable that the two new keepers Masip and Ter Stegen will make their debuts for the first team this evening. In addition, this is a great opportunity for the Barça B players to demonstrate their talent.
Recreativo in the building phase
FC Barcelona will take on a rival that's currently renovating their roster. The departures of manager Sergi Barjuan – Recreativo's new manager is José Luis Oltra – and players Linares, Arana, Gallegos, Jesús Cabrero, Morcillo, Dani Castellano, Ezequiel, Alex Pérez and Ruymán mean that the Andalusian side are in need of reconstruction. It's worth pointing out that Recreativo finished one point adrift of the playoff promotion spot last season.
In the event of a tie, the winner of the 50th edition of the Trofeo Colombino will be decided in a penalty shootout.