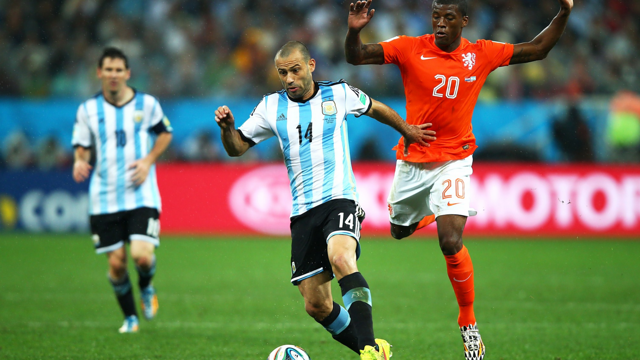 The Barça star was fundamental in Argentina's qualification for the World Cup Final
Mascherano is the player with the best percentage of successful passes in the whole competition (86.6%)

The Argentina National Team qualified, this Wednesday, for the Final of the World Cup in Brazil. Argentina played out a goalless draw with Holland, and went through to the semis by winning a heart-stopping penalty shootout. One of the stars of the Argentine success was Barça player Javier Mascherano, both for his contribution on and off the field.
As is usual with Argentina, the 'Jefecito' played in defensive midfield, just in front of the central defenders, making sure the ball was played out of defence, and stopping many Dutch attacks. Mascherano became even more of a hero, when, in the 90th minute, he intercepted a close-range shot from Robben, which may well have beaten the keeper. It was a move that reminded us of the same thing he did against Bendtner (Arsenal) in the Champions League Final in 2011.
But the influence that Javier Mascherano has on the Argentine team is not only limited to what happens on the pitch during the game. In the semifinals he proved, once again, his leadership skills. Mascherano took responsibility for the team-talk with his teammates before extra time, and just before the penalty shoot-out, he said something that would turn out to be prophetic to the keeper Romero: "Today you will become a hero".
Unquestionably, the Barça player has become one of the figures of this World Cup. Mascherano is the player with the best percentage of successful passes in the whole competition (86.6%). He has played every minute (600) and recovered 42 balls (7 per game).
The Argentine press have praised his outstanding performance, even on the front pages. The daily newspaper 'El Tribuno' considered him as "The Leader and the Hero".