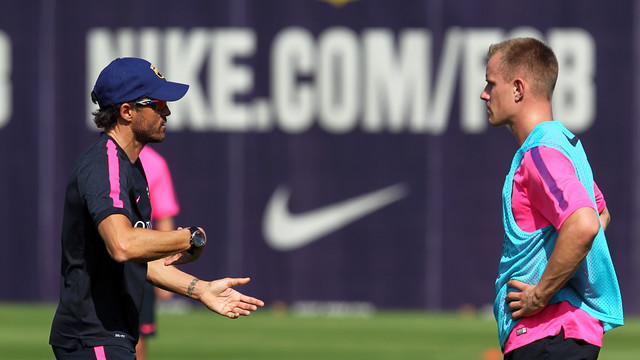 The new manager discussed the potential roles of different players in his new-look team
Messi, Mascherano, the three goalskeepers, the B team, Adriano, Alves and Luis Suárez were all mentioned this Wednesday
Luis Enrique has discussed various matters on his third day as first team manager, and mentioned several specific players, including those that were competing at the World Cup, those in the reserves that are hoping to play first team football some day very soon, the status of the three goalkeepers, and the different options in attack. He's clearly going to have plenty to think about over the next few weeks
Here is what Luis Enrique had to say about certain players:
Leo Messi: "For me, and for so many other people, he is still the best player in the world. There are all kinds of opinions going round, but after seeing what he did last season and at the World Cup in Brazil, I have no doubt that he's still the best. We came to think that scoring 60 goals a season was perfectly normal, but it was anything but normal".
Javier Mascherano: "He gives us options in so many different ways. I like having players that can offer so much. The fact that he can play at centre back or in midfield and do both jobs so well is a wonderful resource. Where will he play? We'll see. It depends what the team needs".
Three goalkeepers: "Right now, if I had to name my first line-up, I'd pick Masip because he's the only one I know in depth and he's a great keeper. I have seen Ter Stegen and Bravo in competition, but I don't know them very well on a personal level. But I'm sure they'll be good for us. I'll need to see all three before I make my decision, but there's no rush. We're just happy to have three such top quality goalkeepers".
Bravo and Ter Stegen: "There is no questioning that Bravo is a great keeper. He's good in the air, good with his feet and he reads the game to perfection. But then I could say the same things about Ter Stegen. Playing in goal for Barça isn't easy, so we're very pleased with the three we've got".
Dani Alves: "He has a club contract and we always want to have the best players in every position. He has done so much for Barça over the years that he has won the right to speak about the best options for his future. He has a decision to make. But for the time being we're counting on him because he a member of the squad".
Adriano: "He has a contact and he's part of the squad. You never know what offers might come, but we consider him a member of the squad and that's what we've told him".
Luis Suárez: "Ideally, we'd have all of the players from the very first day, but we knew what the situation was when we signed him. We're still hoping the suspension can be changed, but it would be no tragedy is it wasn't. You must remember that we've got plenty of other players. There's a long season ahead and there will be chances for everyone. So it's no excuse that he's suspended".
The forward trio (Messi, Neymar and Luis Suárez): Coaches always want the best footballers, and we have them. I'm delighted, but it won't just be those three playing. There are lots of players who can form part of the attack, and to be a good team you need everyone to chip in".
The reserve team: "I don't just hope to use them. I hope they make it impossible for me not to want to use them. The doors to the first team are always open to anybody who deserves it. I don't just have 22 or 23 players in my squad. There's a whole reserve team behind them".