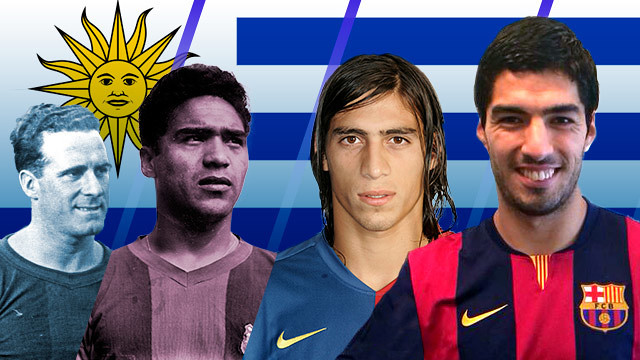 Héctor Scarone was Barça's first big name foreign signing, but another Uruguayan, Josep Mascaró, was one of the club's earliest players in 1903
Luis Suárez continues a long Uruguayan tradition at Barça, following on from the likes of Villaverde, Benítez and Enrique Fernández

FC Barcelona have had players from all corners of the world over the years. But the first major international signing was a Uruguayan. Héctor Scarone arrived in 1925, and 89 years on, the 17th Uruguayan is about to wear the famous Barcelona shirt, Luis Suárez, one of the biggest stars in the global game. He has just been crowned leading goalscorer in the English Premier League, enough to win him the 2013/14 Golden Boot, an accolade he shares with Cristiano Ronaldo, both with 31 goals.
His compatriots that have made the same journey before him have included Martín Cáceres, the most recent example, and Ramón Alberto Villaverde, Julio César Benítez and Enrique Fernández.
First international signing
Héctor Scarone, the 'Wizard', arrived at FC Barcelona in the summer of 1925. He was the first big-name foreigner to ever be signed by the club in the professional era. His club Samiter, was at Les Corts to play a friendly against Barça and the skilful striker caught everyone's eye. He was persuaded to play for Barça in the 1925/1926 season, winning the Spanish Cup and scoring nine goals. But he wasn't the club's first Uruguayan. That was Josep Mascaró, way back in the formative years of the club (1903) and the next to arrive would be Ricardo Faccio (1934), who like Mascaró only ever played friendlies, and never any official matches..
The next Uruguayan was Enrique Fernández. He came in 1934 to play under the orders of Franz Platko and Patrick O'Connell, and helped the team to two consecutive Catalonian Championships and into the Spanish Cup Final 1936. He played 17 league games and scored eight goals that season and eventually left with a record of 39 appearances and 22 goals. Fernández returned to the club in 1947/48, after retiring from the game due to a serious knee injury, this time to manage the first team for three seasons, winning two league titles in a row.
In 1949, with Enrique Fernández still as manager, two more Uruguayans arrived: Luis Prais and Salaverry. Salaverry was a striker for one season, while Luis Prais played his last ever season as a professional in the FC Barcelona defence.
Four years later, in 1954, Barça brought in Ramon Alberto Villaverde from Millonarios Bogota, where he'd played alongside Di Stéfano. He made his debut at Les Corts against Sevilla on August 12, scoring a header in a 4-2 win. He'd go on to play 322 times for Barça either out wide or in the middle of defence, and became a firm favourite during his nine years of service to the club. He won the league twice under Helenio Herrera, as well as two Fairs Cups and three Spanish Cups.
Two players arrived from Deportivo la Coruña that year: Luis Suárez and the seventeenth Uruguayan, Dagoberto Moll, who only played 16 times for the first team, scoring four goals. He ended up playing for the reserves, known at the time as CD Comtal, which in 1956/57 played in the first division with Moll playing 13 games and scoring twice.
Benítez, much remembered
Julio César Benítez made history at Barça. One of the finest right backs ever to wear the colours, the club's ninth Uruguayan was here from 1961 to 1968. He was remarkably quick, and was an expert penalty taker. A huge fan favourite, he won the cup in 1963 and the Fairs Cups in 1966. But Julio César Benítez is also remembered for his tragic and unexpected end. On April 6, 1968 the club was shocked to learn the news that he had died at the age of just 27 years.
In 1962, Barcelona, welcomed Luis Cubilla from Peñarol. In two seasons, he played 48 official games and scored 14 goals. He won the cup in 1963. A year later, Silveira came to the Camp Nou from Independiente de Avellaneda of Argentina. He played 14 games in his only season at the club.
Eduardo Endériz signed in 1966 from Valladolid, and was on the Barça books for two seasons. Because of injury, he only got to play five games, but did leave with a cup medal, won in 1967.
Uruguayan number 13 was Alfredo Amarillo who made his Barça debut on December 5, 1976 against Las Palmas, winning 4-0. In his two seasons, he won the Spanish Cup.
In 1983, Julio César Jiménez joined the Barça reserves from Ferro Carril Oeste in Argentina. After one year in the second division, in 1990, Néstor Martín played one preseason game for Barça against Sabadell, but was eventually left out of the first team roster.
The last Uruguayan before Luis Suárez was Martín Cáceres, who joined FC Barcelona under Guardiola in 2008. He scored his first goal on August 4, 2008 against Chivas USA on the preseason tour, and made his official debut on October 22 in the Champions League against FC Basel. He was in the side that won the treble of the Spanish Cup, Liga and Champions League.