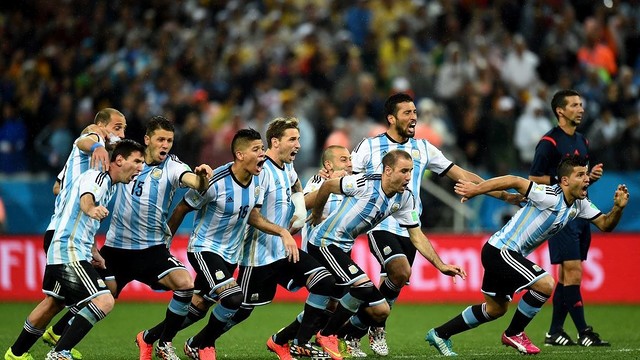 The big day has arrived for the FC Barcelona duo, as they prepare to take on Germany in the World Cup Final
But they'll need to overcome a Germany side that wowed the world with a 7-1 win over hosts Brazil
After one month of gripping football, the World Cup is down to the last two. At the Maracanà in Rio de Janeiro, Argentina and Germany are about to face each other in a star-studded final. Leo Messi and Javier Mascherano will both be in Alejandro Sabella's starting eleven as they seek to lead the South Americans to their third World Cup title.
Two key players
The Barça duo have been the two most outstanding players for Argentina so far in the tournament. Leo Messi, has scored four goals himself and has played a part in all of the others, while Mascherano has been a veritable midfield general, and has saved the day on several occasions with some stellar defending. Sabella knows how important they are to the team, and both are unquestionable starters tonight at the Maracanà.
But this will be the toughest test yet for the 1978 and 1986 world champions, for they are up against arguably the most impressive side in the tournament so far. Müller, with five goals, Kroos, man of the match against Brazil, Klose, who just broke the all-time goalscoring record at the World Cup, and Neuer, who has been astoundingly solid in goal are just four of the amazing players in the German line-up, but rather than individuals, it's the way they play as a team that has impressed the most. Their 7-1 win against hosts Brazil in the semi-final was one of the most staggering results not just in football history, but in any sport.
Solid defence, strong attack
Both sides have been solid at the back in the six games they played to get here. Argentina have only leaked three goals, and Germany just four. But while Argentina have scored eight goals, four of those via Messi, the Europeans have more than doubled that tally with 17, almost three a game, although the figure is obviously boosted by that amazing display against Brazil.
So, the stage is set at the Maracanà for what promises to be an intense battle between two highly experienced aides. And FC Barcelona will be well represented. The main attractions will be Messi and Mascherano on the field, but watching from the stands will be president Josep Maria Bartomeu, director of sport Andoni Zubizarreta, his new assistant, Carles Puyol, and vice-president Carles Vilarrubí.