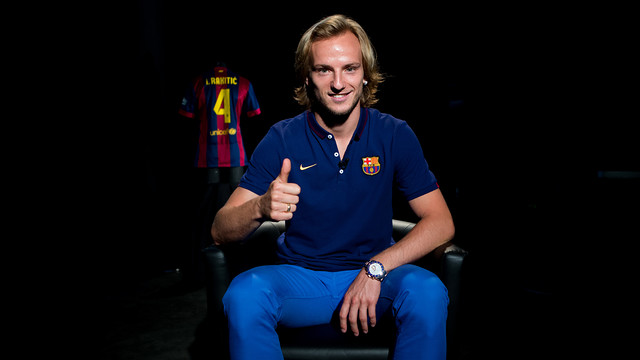 "I'm really motivated. There are a lot of good players around me, and as well as learn from them, I also hope to help make them even better" the Croatian said
"The move from Seville to Barcelona has been really tough. I had a really close relationship with the people there, and it was the first day that my wife saw me cry" explained the former Seville captain

Ivan Rakitic (Möhlin, 1988) was presented, on Tuesday, as a new FC Barcelona player for the next five seasons. The Croatian player who will wear number 4, said in an interview with Barca TV and www.fcbarcelona.cat that he was a firm admirer of Guardiola, and he hopes, above all, to help make his teammates even better, and be part of a close group which can win titles. He also stated that he is really motivated and that the family is the most important thing for him.
[[CITA_1]]
For Rakitic, one of the important things for a player is to be happy, and feel valued. He explained it like: "It's important for a player to feel comfortable. You can only give a hundred percent if you're happy. From the beginning my dealings with Barça have been brilliant, and for a player that's great".
"For all of us, having a former player with a history as a coach is good. He's done a great job at Celtic. He has many qualities and ideas as a coach and I'm looking forward to start working with Luis Enrique" the Croatian player said about his new coach
[[CITA_2]]
At the press conference of his presentation as a new Barça player, Rakitic explained the reason for choosing number 4 on his shirt, a number that has been worn by great players at the Club, like Koeman and Guardiola. "We all know the success of Cruyff, with Guardiola in this position. It's unforgettable and for me a new era at Barça is just beginning. I'm very proud to be part of this and hopefully I might have the same success as Guardiola or even more, because I always want to win and never lose"..
Regarding his move from Seville to Barcelona, Rakitic acknowledged that, with the help of his family it becomes easier, but it has not been that simple: "The move from Seville to Barcelona has been really tough. I had a really close relationship with the people there and it was the first day that my wife ever saw me cry. A new era is starting and I'll try to help Barça be even better"
[[CITA_3]]
"Last season at Seville I took a step forward in my career. I've grown as a player, and as a person, and I know I haven't reached my peak yet. Each year one can improve and I'll work really hard" said Rakitic, who has a very clear philosophy: "I don't like to dream, I want to make it happen. I'll take it day by day and hope to perform at 100%, and try to give everything on the pitch, doing my job as well as I can, with no time to dream".
Finally, Rakitic stressed that he is highly motivated and can't wait to start working with his teammates: "I'm really motivated. There are a lot of good players around me, and as well as learning from them, I also hope to help make them even better. I hope to do the best I can to help them with their objectives. In such a great team you have to go for it from the start".
He has many qualities and ideas as a coach and I'm looking forward to start working with Luis Enrique
I'm very proud to be part of this and hopefully I might have the same success as Guardiola
I don't like to dream, I want to make it happen. I'll take it day by day and hope to perform at 100%