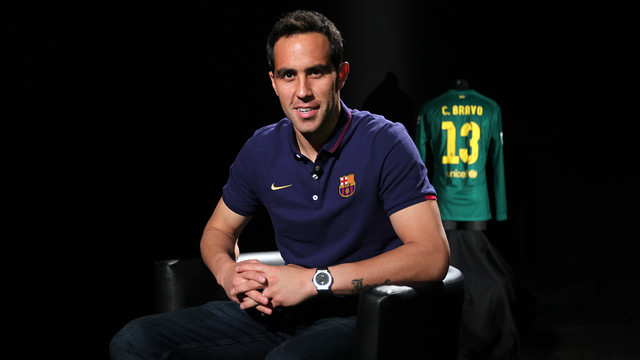 The goalkeeper gave his first interview to Barça TV since joining the club
"When I was a kid, I played as a striker, but I realised I didn't have much of a chance" he admits
He defines himself as "a person with a lot of character and who likes to lead the squad"
Moment after his official presentation, Claudio Bravo gave his first interview as an FC Barcelona player to Barça TV and fcbarcelona.com. Here are ten of the Chilean's answers.
1) "The news of my transfer has caused a sensation in Chile. The people are so proud that there are two Chileans in the best team in the world. They're looking forward to seeing us playing together in the near future".
2) "My eight years at Real meant a lot to me. I was unknown when I arrived and wanted to make a name for myself and form part of the club's history. I wanted them to stop talking about Arconada and talk about Bravo instead, and I managed that a bit. I am leaving with good memories of the place".
3) "The situation now is similar. When you arrive somewhere new it's like starting from scratch. I came at a time when I was something of a gamble and spent my first season without playing a match. Now I need to fight for the same thing".
4) "I haven't been in Barcelona long, but the people have already shown their affection. Everything's so much bigger here. I have never had to go out on the street with four escorts. That didn't happen in San Sebastian. But I'm grateful and it all adds to the motivation".
5) "The first news from Barça came before we had started thinking about the World Cup. We had a league match, with Athletic Bilbao, if I remember rightly. The next day they phoned to tell me I had a chance of going to Barça. I didn't take it as a surprise. I took it as a real possibility, an enormous challenge before me".
6) "When I was a kid I played as a striker, but I soon realised that I didn't stand much of a chance. Neither did I like that position much because it's very tiring, there's not much responsibility and you wear the same kit as everyone else. Inside of me, I wanted something different. I enjoy it much more in goal".
7) "I can't remember the date when I scored the free kick. We were playing Nàstic and we needed a result. It was mad for me, and for the manager, to try something like that. The curious thing is that Real have never scored from a free kick since".
8) "I'm relaxed now, but when you're disguised as a footballer your personality and the way you view things change. I have a lot of character and I like to lead the squad. I try to contribute as much as I can, whether it's inside or outside of the dressing room".
9) "Luis Enrique made a tremendous impression at Celta. Celta made it difficult for us at Anoeta. They play very lively, attacking football. In Vigo, too. I remember that game well, they had ten men but still attacked all match".
10) "The Camp Nou is very impressive. I have played here as a visitor. You're struck by its size, by the fans, by the team. Now I'll experience it from the other side and I'll try to impress opponents the same way".