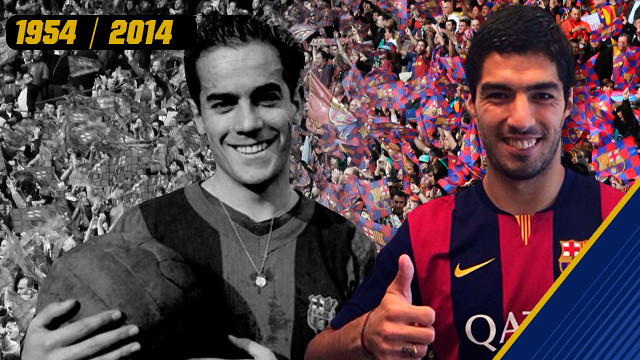 Sixty years later and FC Barcelona has another major star in the squad with the same name
In 1954, Barça signed Galician Luis Suárez Miramontes from Deportivo la Coruña. He was a promising 18 year old striker, who confirmed his talent over seven seasons at Barça, scoring 112 goals in 216 games and winning the Ballon d'Or.
Sixty years later and Barça have signed Uruguayan Luis Alberto Suárez Díaz, a 27 year old considered one of the best players on the planet, as he has already shown at Ajax and Liverpool. Like his predecessor, he is set to only get better at FCB, and contribute to the conquest of plenty of major titles.
Curious coincidences
There are a number of peculiar parallels between the two. Luis Suárez Miramontes led the transition from the legendary team of the Five Cups to the wonderful side that played under Helenio Herrera around the time that the club moved from Les Corts to the Camp Nou.
Luis Alberto Suárez is coming to the club after its most glorious period ever, which since 2005 has won six Spanish Ligas and three Champions Leagues, among other honours, and is now looking to recover its dominance. And with the Espai Barça project soon to commence, the Uruguayan will also be here as the club prepares for a major change to its home ground.
The namesakes also share the situation of playing in a forward line among some of the finest players in the world. The first Suárez teamed up with the likes of Kubala, Evaristo, Kocsis and Czibor, while the second will be playing with Messi, Neymar, Iniesta and Pedro.
But there are also stark contrasts. In 1954, the club was still engulfed by the aftermath of the Spanish Civil War. At the height of the Franco dictatorship, the FCB was undergoing unprecedented growth, and the record figure of 38,000 members was the main motivation for the change of stadium. Now the club has 169,000 members and has been consolidated as one of the biggest in the world