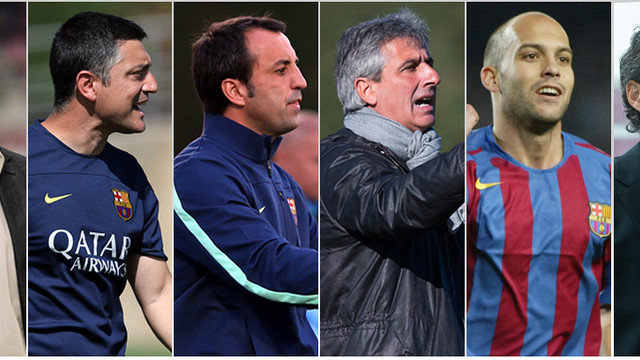 Six former Barça players are now at the Club as coaches, and three more in a technical capacity.
Luis Enrique, first team coach, Eusebio with Barça B, and Vinyals, U18 A coach, are the main three

Many ex footballers, once retired, go into coaching. The great majority begin with the youth teams, and progress through the ranks as they gain more experience. This is the case of six former Barça players currently coaching the professional or youth teams. Then there are former players who have gone on to manage and make decisions for their club from a different perspective, occupying an office.
With the arrival of Gabri Garcia, who spent 13 years playing for Barça, from youth teams right up to the first team, onto the Barça B coaching team, here we take a look at former players who are now working on the coaching side of football. The most obvious case is that of Luis Enrique Martínez, the current Barça head coach, after playing for the Club between 1996 and 2004. Before becoming first team coach, he trained Barça B, Roma, and Celta Vigo. Then we have Eusebio Sacristán, currently the Barça B coach, having played for the Club between 1988 and 1995. He was part of Frank Rijkaard's coaching team, and for the last three seasons has been the Barça B coach.
With the U18's and U16's
Moving on to the youth teams, there is Jordi Vinyals. Current European Champion with the Barça U18's, Vinyals also played in a Barça shirt, and he's been coaching the very successful U18's for two years now. The U18 B team coach is Fran Garcia Pimienta. The former Barça forward was a player with the Club for over 10 years, and has been coaching youth teams at the Club for a further 10 seasons. For the last three seasons he's been in charge of the U18 B team squad.
Another former player is head coach of the Barça U16's A team. He is Quique Álvarez, who played for Barça B over several seasons. Alvarez, the oldest son of former player, and coach, Quique Costas, has now been coaching the academy teams for a few years.
Former players in the offices
Former Barça players not only take on coaching positions, as some take on a more management role. Jordi Roura, until this season a member of the Barça coaching staff, is from now on the youth football Sporting Director, whilst Carles Puyol, who retired from playing at the end of the 2013-14 season, will serve as Assistant to the Technical Director, from September. Puyol, who has played for 15 years in the first team will be the right hand man of Andoni Zubizarreta, former Barça goalkeeper between 1986 and 1994, and since 2010 the Technical Director at the Club.