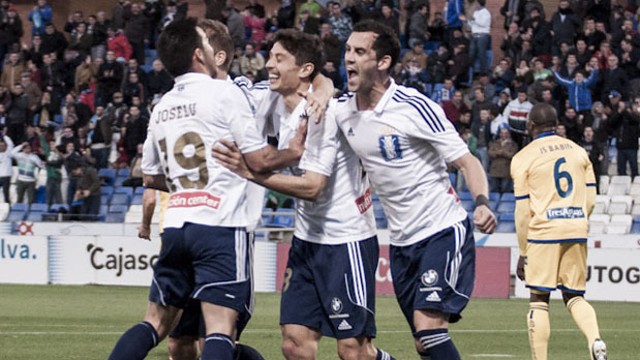 FC Barcelona's first opponent of the preseason is still building its squad, but has hopes for the season ahead
The Andalusians missed out on promotion to the top flight last season by a solitary goal
Oltra's squad
New inclusions: Antonio Núñez, Rubén Mesa, Juanan, Víctor Díaz and Nana
Continuing: Dani Sotres, Rubén Gálvez, Córcoles, Juan Antonio Zamora, Menosse, Jorge Araujo, Fernando Vega, Toño, Jesús Vázquez, Dimas Delgado, Ángel Montoro, Jorge Larena, Josmar Zabrano and Joselu
B team players: Koke, Aitor García, Caye Quintana and Arturo
Trialists: Fadel Suanon, Blati Touré, Carlos Expósito and Pablo Cutillas

*The squad is not yet complete

FC Barcelona start their preseason with a friendly on Saturday night at 8.45 PM CET. Luis Enrique will be managing the first team for the first time at the Nou Colombino, home of Recreativo Huelva. The oldest club in Spanish football, who missed out on a place in the promotion playoffs by the narrowest of margins last season, are currently undergoing a major restructuring of their squad.
There has been a change of manager, with José Luis Oltra replacing former Barça man Sergi Barjuan. Like Barça, he's preparing for the game with several B team players to boost the squad, as well as trialists Carlos Expósito and Pablo Cutillas.
But it's an ambitious project that Recre are putting together. Almost reaching the playoffs last season was step in the right direction, but the aim is to go further and get the club back into the first division.
Post-Barjuan
Although there was still a year left on Sergi Barjuan's three-year contract, he and the club parted ways this summer following a league record of 31 wins, 22 draws and 31 defeats, as well as three wins and two draws in the cup.
The results in his second term were better than in the first, but it was promotion that the club wanted. They ended the season in eighth place with 61 points, tied with Cordoba, who eventually went up, but missing out on the play-offs on goal difference.
Big changes
After a stop-start beginning to the campaign, Barjuan led the side to the top positions in the second division until April, but numerous injuries, and especially those to Arana and Jonathan Valle, the side's most important players, hit performances hard. The prospect of direct promotion started sliding away, and eventually they weren't even rewarded with a place in the playoffs.
Under Oltra, Recre have high hopes of returning to the first division for the first time since 2009. But they'll have to do it without strikers Linares (Oviedo) and Arana (Mallorca), who have both left the club. Other players that have moved elsewhere are Gallegos, Jesús Cabrero (Mallorca), Morcillo (Rayo), Dani Castellano, Ezequiel (Betis), Alex Pérez (Getafe) and Ruymán (Llagostera).