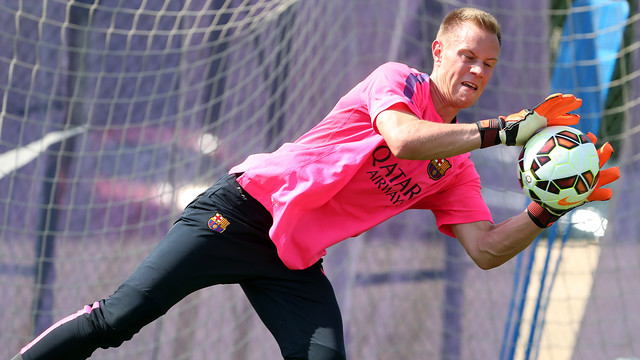 Luis Enrique has called up 7 first team players and 16 Barça B players for the first friendly of the summer
Rafinha didn't make the squad as a precaution due to the minor injury he picked up in training, and Adriano also won't travel to Andalusia, he's out of action for 4 to 6 weeks. Bojan didn't make the team for technical reasons
Luis Enrique has called up 23 players for the first match of the 2014/15 season. A total of seven first team players and 16 Barça B players will make the trip to Huelva for the match against Recreativo. The friendly will mark the 50th anniversary of the Trofeo Colombino.
Rafinha wasn't named in the squad as a precaution due to the minor injury he sustained to his left foot and Adriano, who is out of action for 4 to 6 weeks, also won't make the trip. Bojan didn't make the team for technical reasons.
Training session with 24 players
Before the manager revealed his 23-man squad, the team completed their seventh training session of the week. Eight first team players (Ter Stegen, Montoya, Bartra, Sergi Roberto, Deulofeu, Afellay and Bojan) participated in the session as did 16 Barça B players (Patric, Bagnack, Edgar Ié, Lucas, Grimaldo, Samper, Diagne, Halilovic, Babunski, Munir, Sandro, Dani Nieto, Juan Román, Dongou and Adama). All of the above mentioned players are in the team with the exception of Bojan.
It's worth nothing that the team will travel to Huelva on Saturday morning. They will depart from the Camp Nou at 9:15 AM CET and touch down in Seville at 11:00 AM CET. From there, FC Barcelona will make the trip to AC Huelva Hotel, and rest there until kick off (8:45 PM CET).