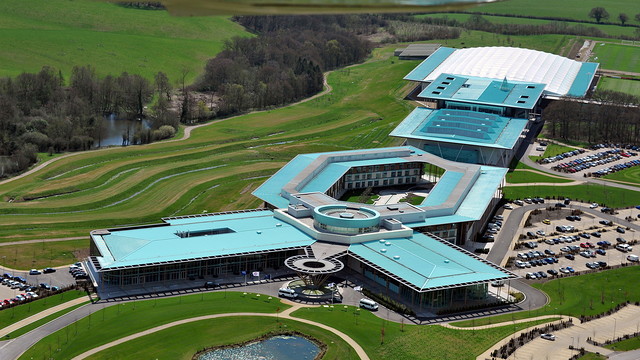 The first team will complete its preseason training schedule at St George's Park between July 28 and August 2
This centre is the main headquarters of the Football Association and is located just outside Birmingham
Statements by Julie Harrington, managing director of St. George's Park
"I am absolutely delighted that F.C Barcelona have decided to join us for their pre season preparations later this month.
This is hugely exciting news for St. George's Park and The FA, and it is a real pleasure to be able to have one of European football's most successful clubs train at our facility.
We look forward to welcoming the players and staff, and helping ensure their visit with us is both an enjoyable and memorable experience."
[[DES_1]]The football first team will be at St. George's Park for a preseason training camp between July 28 and August 2. This will be the final stage of Luis Enrique's team's summer training schedule, which gets under way next July 14. After they have finished in England, the team will be travelling directly to Nice (France) on August 2 for a friendly with Nice at the Allianz Rivera Stadium. St. George's Park is the main headquarters of the Football Association and is located just outside Birmingham in the Midlands.
The training camp will follow on from the first team's first preseason friendly against Recreativo de Huelva on July 19 for the Colombino Trophy. The team will also play two friendlies against Napoli at the Stade de Genève (Switzerland) on August 6 and against HJK Helsinki in the Olympic Stadium, Helsinki on August 9, as well as the Joan Gamper Trophy match on August 18 against Mexican club León FC, which will double as the official presentation of the first team squad for the 2014/15 season.
St. George's Park
St. George's Park is the development centre for 24 England teams, and is also a football, sport and business development centre. Located in the heart of England, it is situated in the midst of 330 acres of beautifully landscaped parkland in the National Forest. The centre has huge, modern bespoke facilities designed specifically for elite sports training. It is here that the England national team trains for international matches.
The sports facilities include: one 105 m x 68 m indoor artificial grass pitch; 11 outdoor football pitches, one 60 m athletics track next to the indoor pitch, a 60 m x 40 m indoor pavilion for such sports as futsal, a specific goalkeepers area, a 20 degree sloped running hill for conditioning and fitness, four pavilions for meetings and training analysis, the first FIFA Centre of Medical Excellence in the UK and a 228 room hotel.
Zubizarreta

impressed

Andoni Zubizarreta, the FCB director of football, commented that "FC Barcelona is thrilled to be going to St. George's for a preseason training camp. The FA has magnificent facilities. We will be able to work peacefully in an exceptional football setting, with perfect indoor and outdoor facilities that make us believe that the work atmosphere at St. George's will be excellent. We are very much looking forward to the preseason and this visit to the FA is an added attraction."