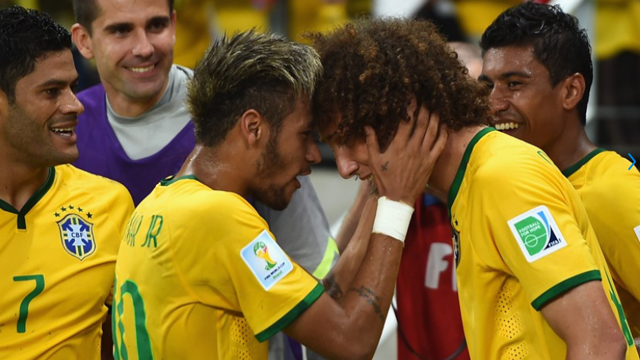 The host nation are in the final four of the World Cup thanks to strikes from Thiago Silva and David Luiz. Brazil will face off against Germany in the semi-finals
Neymar Jr was a starter but was brought off in the dying minutes of the match, while Alves watched the match from the bench

Brazil will play the semi-finals of the 2014 World Cup for the first time in 12 years. Goals from the two center backs, Thiago Silva and David Luiz downed the revelation team of the tournament, Colombia. Brazil will take on Germany in the first of the two semi-finals.
Brazil's strategy works
One of the biggest surprises from the Brazilian team this evening in Fortaleza was the swap of Dani Alves, who was a starter in the Round of 16, for Maicon in the starting line-up. Neymar Jr did start the match and he took the corner that led to the 1-0 scored by Thiago Silva on 7 minutes.
Brazil bring the intensity
Brazil dominated throughout the first half. They were more intense, and were rewarded with more chances on goal than the Colombians. Neymar Jr and Hulk were the two biggest threats on Ospina's goal.
In the second half, just like what happened with Chile, the match changed. Brazil lost intensity and Colombia, forced forward due to the result, surged forward. However, the men managed by Scolari scored, throughout David Luiz's beautifully executed free kick on 69 minutes.
Neymar Jr is carried off the pitch
When the match seemed like it was over, Colombia made things interesting. Ten minutes from full time, Bacca was brought down in the area by Julio César. James Rodríguez scored from the eleven meter mark to cut the deficit in half. Soon after Neymar Jr sustained a forceful knock to his spine and was taken off the pitch by FIFA attendants. Henrique was brought on for the FC Barcelona forward.
The semi-final between Brazil and Germany is scheduled for Tuesday in Belo Horizonte.