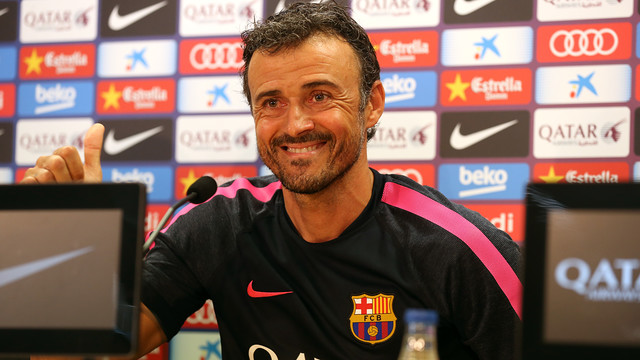 "We'll use all the resources we've got, one of which is being unpredictable" he said
He added that "leaders are created, they appear and have appeared"
"I want a team that scores goals, defends well, is loyal to its style and wins games playing attractive football"
Luis Enrique gave a media conference on Wednesday in the company of director of sport, Andoni Zubizarreta, his first such appearance since starting work with his players. Asked what kind of team he is putting together, he replied that "I want a team that is faithful to everything that has won it so much before, a team that scores goals, that defends well, that has playing resources, that plays the same at home and away … I don't just want results, I also want to win playing nice football".
[[CITA_1]]
He doesn't see his team sticking firmly to any set style of play, but instead "we'll be using all the resources we can, and one of those is being unpredictable … This team has been put together to play well and carry the weight of matches. I like having players that can offer you different playing options and that are able to surprise opponents".
[[CITA_2]]
There have been plenty of changes to the Barça squad this summer, including the departure of two of the captains, but when asked who'll be leading the team this year, Luis Enrique replied that "leaders are not imposed, they have to appear, they appear spontaneously and we're already starting to see that … I am a born leader myself, and I lead this team. The challenge is to ensure that this has an impact on the team".
He ended by explaining that "rather than being about individuals, our chances of success next season depend on everybody's efforts combining in the right way."
I don't just want results, I also want to win playing nice football
I am a born leader myself, and I lead this team. The challenge is making this have the right impact on the team
Jo ja sóc un líder, lidero aquest equip. El repte és aconseguir tenir repercussió en l'equip