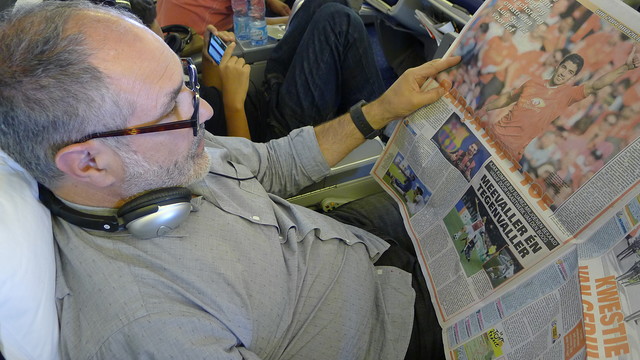 Hours before the final at the Maracanà, the FC Barcelona has discussed Messi's fine form, Neymar's injury and the signing of Suárez
He also commented on Bravo and Rakitic, as well as Spain's early exit in Brazil
Andoni Zubizarreta, director of football at FC Barcelona, is part of the group representing the club at the World Cup Final between Argentina and Germany. The former goalkeeper is being joined in Rio de Janeiro, among others, by president Josep Maria Bartomeu, institutional vice-president Carles Vilarrubí, and his new assistant Carles Puyol, who will be handing over the trophy last won by Spain at South Africa 2010.
During his flight to Río de Janeiro, Zubizarreta gave an interview to fcbarcelona.com.
You played at the Mexico, Italy, USA and France World Cups. Four tournaments is a record for Spain that you share with Fernando Hierro. So you know what it all means. What will people remember about Brazil 2014?

"The World Cup is the greatest football festival. It brings together the finest teams, the finest coaches and the finest referees. It's a festival enjoyed on the television, on the radio, in the papers, and it is every footballer's dream to be there. And it only happens once every four years, so you have to make the most of your time, because you never know if you'll ever get the chance again. I think this World Cup will be remembered for the quality of the football, for some close games, for the emergence of teams like Costa Rica that have been a breath of fresh air and brought new faces into the football world. And it'll be remembered for the tremendous goalkeeping and of course for Germany's historic 7-1 win over Brazil in Belo Horizonte."
What kind of Germany v Argentina can we expect to see in a few hours?
"I'm hoping to watch a passionate final, between two contrasting styles, some enormous players on the pitch who can tip the balance through individual or group actions."
What do you think happened to Spain?

"I think it's hard to stay at the top of football for as long as Spain managed. Two Euros and one World Cup in a row. I think the heavy defeat in the opening game determined their fate because after that they not only had to win but also to score lots of goals. That added to the pressure against Chile and had a negative effect on their confidence. And in such a short tournament, confidence is fundamental."
Early on in the tournament, it was FC Barcelona who were getting all the attention from the media and pundits. Messi, Neymar, Mascherano, Alves, Alexis… But what about the World Cups of goalkeeper Bravo and midfielder Rakitic, who've just been signed by FC Barcelona?

"Claudio Bravo showed the composure, confidence and determination of a consolidated goalkeeper and adapted perfectly to the way his team played. Rakitic was one of the playmakers for Croatia in a more defensive position than we usually saw him play at Sevilla but he brought balance to the Croatia team."[[CITA_1]]Tell us about Luis Suárez…
"Suárez went to the World Cup after a rushed recovery from a knee injury. He got both goals against England to ensure qualification for the second round, but was then involved in a sorry episode with Italian defender Chiellini. But he showed just how good he is in front of goal and I'm sure he has learned a lesson for the future after what happened against Italy."
What about Neymar's injury? Was that a turning point in the competition?
"Neymar was Brazil's most decisive player and one of the stars of the World Cup until his injury against Colombia. It was a major loss for Brazil and the World Cup in general. Brazil lost their edge in attack, and that limited their options. I just hope he gets fit quickly, and that we'll be able to see him playing football again sooner rather than later."[[CITA_2]]Messi is about to play the biggest game of his life. How does a star like him prepare for something like this?
"It is hard to imagine what somebody goes through before a game as important as this. I think Messi will focus on his football, the game, the play. In his ability to change the course of the game but also to create chances for his team-mates. I'm sure we'll get to see some of the skills that are so typical of him, but he knows more than anyone that the only important thing in a final is to win."
How would you explain the differences between European and American football?
"American football has traditionally been about playing the ball and flair, and European football has been more physical and tactical. But the game is so universal now that the difference is less clear. Many Americans play in Europe and playing the ball is now the way for everyone. But at specific moments you still see elements of the kind of football that hasn't so much been defined by continents as it has by countries and their particular football histories.The colours, flags and anthems have been different, but this World Cup has still been very much about Barça. Neymar, Alves, Messi, Mascherano, Spain, Song, Alexis, Bravo, Rakitic, Suárez… How will all of that blend together at FC Barcelona next year under Luis Enrique?
"At FC Barcelona we always strive to play our own way, with possession of the ball, attacking football, daring plays, intensity, speed. We work on that every day, concentrating not just on big things, but minor details too, while varying our tactics, ensuring that we are the protagonists of every match and every competition."
Neymar was a major loss for Brazil and the World Cup in general
Messi knows more than anyone that the only important thing in a final is to win