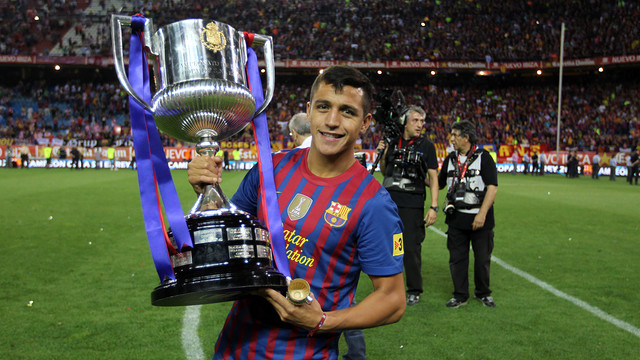 The Chilean leaves FC Barcelona with a haul of 47 goals from 141 appearances, one League title, one Spanish Cup title, 2 Spanish Super Cups, 1 European Super Cup and one FIFA World Clubs Cup
The 2013/14 season was Alexis' best: he scored 21 goals from 54 appearances
Alexis Sánchez is bidding farewell to the Camp Nou after three seasons, during which he scored 47 goals from 141 matches. He won 99 games, drew 25 and lost 17. His final season, under manager Tata Martino, was one of his best as far as stats go. He netted 19 goals in La Liga and scored 2 in the Spanish Cup.
Alexis, who featured mostly on the right wing for Barça, was the first signing of the 2011/12 season. The Chilean international signed from Udinese, where his fantastic year won him the the Serie A Player of the Season award. Alexis made his debut for FC Barcelona against Real Madrid in the Spanish Super Cup. From his first game he showed his undeniable dedication, eagerness and ability to score.
21 goals in the 2013/14 season
In his first season, despite struggling with a series of injuries, the Chilean scored a total of 15 goals from 41 appearances: 12 in La Liga, 1 in the Cup and 2 in the Champions League. His second season was slightly more discreet: he scored 8 goals in La Liga, 2 in the Cup and 1 in Champions League, making a total of 46 appearances. However, he had became one of the leaders of the team by the end of the season, and helped Barça to a record 100-point haul in the domestic championship (all eight of his goals were scored in the second half of the season).
In 2013/14, under Martino, he netted 19 goals in La Liga and 2 in the Cup, making a total of 54 appearances. In addition, he left the Camp Nou faithful with two unforgettable moments: his incredible goal in the Clásico at the Camp Nou and his wonder strike against Atlético.
Three years after arriving at the Camp Nou, Alexis Sánchez leaves for Arsenal with one La Liga title, one Spanish Cup title, one European Super Cup, two Spanish Super Cups and one FIFA World Clubs Cup.