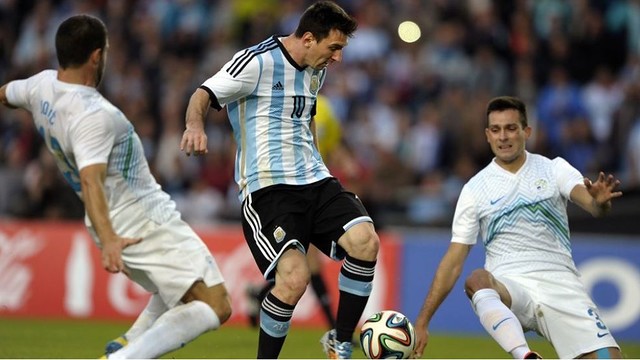 Messi got Argentina's second in their 2-0 win over Slovenia while Cameroon beat Moldavia 1-0 and Spain El Salvador 2-0
Song, Mascherano, Alba, Iniesta, Cesc and Pedro all started their matches

All ten FC Barcelona internationals in action this weekend with their national teams have ended up on the winning side as Cameroon, Argentina and Spain overcame Moldavia, Slovenia and El Salvador. These were the last warm-up games for the three teams ahead of the opening match on Thursday.
Cameroon v Moldavia (1-0). A single goal from Edgar Salli in the 30 th minute gave Cameroon the win. Barça's Alex Song completed the full 90 minutes in a central defensive midfield role. Cameroon will open their World Cup campaign against Mexico.
Argentina v Slovenia (2-0). Ricky Álvarez and Leo Messi provided the firepower in Argentina's last friendly before they take on Bosnia-Herzegovina next Sunday. Mascherano, who has just committed to the Club until 2018, started the match but was substituted by Mammana in the 79 th minute. Messi came on in the 57 th minute and twenty minutes later finished off a great combination with Di María and Agüero to make it 2-0.
Spain v El Salvador (2-0). Former Barça striker David Villa scored two second half goals to give Del Bosque's side a comfortable win. Alba, Iniesta, Cesc and Pedro all started but only Alba kept his place after the break. Busquets and Xavi came on in the 67 th and 73 th minutes. Cesc missed a penalty in the opening moments of the game and Busquets hit the post towards the end.