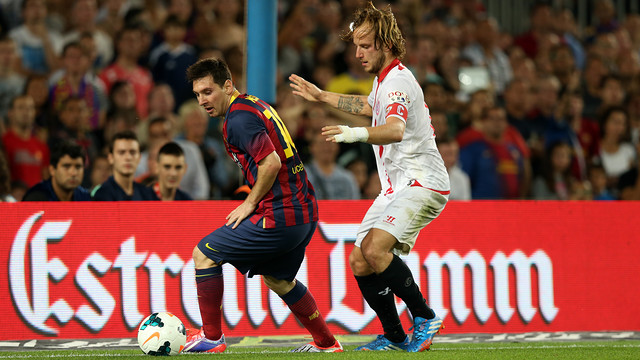 The 26 year old scored 12 goals for Sevilla last season. The star of the team, he was named man of the Match at the Europa League Final
Though he was born in Switzerland, he plays for Croatia and is currently in playing for them at the World Cup

Key facts
Name: Ivan Rakitic
Date of birth: 10/03/1988
Place of birth: Möhlin (Switzerland)
Position: Midfielder
Age: 26
Ivan Rakitic was born in Switzerland and played for that country at U21 level. However, his parents are of Balkan origin, and he eventually decided to play for Croatia for sentimental reasons.
He started out as a professional with Basel and made his first team debut in 2005. Before moving to Spain and Sevilla, from 2007 to 2011 he played for Schalke 04 in Germany.
His has 62 international caps for Croatia and has scored 9 goals. He played at Euro 2008 and Euro 2012, but this is his first World Cup.
He made his international debut on September 8, 2007 against Estonia. He was 19 at the time.
The last Croatian to play for FCB was Robert Prosinecki, who was assistant coach to Slaven Bilic when he made his international debut.
He became Sevilla captain in July 2013 following the departures of Palop, Negredo and Navas.
He was named Man of the Match in the Europa League Final 2014, in which Sevilla beat Benfica on penalties. He was also named Spanish League Player of the Month for January.
This is the 11th time that FC Barcelona have signed a player form Sevilla. The previous cases were Padrón, Szalay, Gallego, Oliveros, Rubio, Serna, Nando, Keita, Alves and Adriano.
Rakitic scored 12 league goals last season. Ten of those came from his right foot, one from his left and one was a header. He also provided ten goal assists.
Stats show that he was the finest Sevilla player last season. He made more interventions (1644), shot most times (79) and made the most completed passes (1503). And his 2,850 minutes were only topped by goalkeeper Beto.