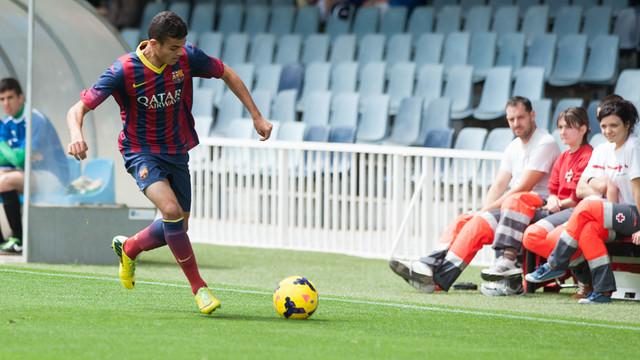 Jordi Vinyals team were a goal away from forcing extra-time in their fight to make the Final of the Spanish Cup
Maxi Rolón, with 2 penalties, turned the game around after Seville's goal, but the win was not enough
MATCH STATS
Barça U18 A, 2
Seville, 1
U18 A: Ondoa, Palencia, Riera, Quintillà, Julen (Fran Álvarez, min 67), Ros (Huertas, min 57), Maxi Rolón (Corredera, min 85), Kaptoum, Ebwelle, Enguene and Moha (Aitor, min 71).
Seville: Juan Soriano, Sedeño, Matos, Luis, Mesa, Antonio, Giráldez, Cera, Juan (Carmona, min 67), Nané and Abel (D'Andrea, min 80).
Goals: 0-1 Juan, min 8; 1-1 Maxi Rolón (p), min 25; 2-1 Maxi Rolón (p), min 75.
The 3-1 defeat in the first leg of the semi-final in Sevilla made it a tough call to be able to reach the Final of the Spanish Youth Cup, but Jordi Vinyals team gave everything they had to try and make it happen. El Seville scored first, but Maxi Rolón, with two penalties, turned the match around. However, the third goal, which would have forced extra time, never came.
Jar of cold water
The game couldn't have started any worse. Seville scored when Juan hit a cross from Abel, and Ondoa let the ball slip through his hands. At 0-1, Barça U18 needed 4 goals to get to the Final, but Ondoa had to make 2 key saves to keep the score at 0-1.
In the 25th minute, the captain Roger Riera forced a penalty that Maxi Rolón transformed to make it 1-1. Followng the equaliser Barça went looking for more, playing a lot down the wings, and with Kaptoum a real threat. The 2nd goal wouldn't come though, and half-time came with the scores level at 1-1.
Come-back was very close
Barça took the inititaive in the 2nd half and went looking for goals, with lots of play down both wings. Maxi Rolón was most active, and won another penalty, for handball inside the area, which he himself took, and scored from. Barça needed one more goal to tie up the overall scores and force extra time.
Jordi Vinyals boys tried everything, but Seville defended very well, and with both sides very tired, there were no more goals.
Barça U18 thus ended an excellent season, where they were Champions of the Leagu and won the first ever UEFA Youth League.