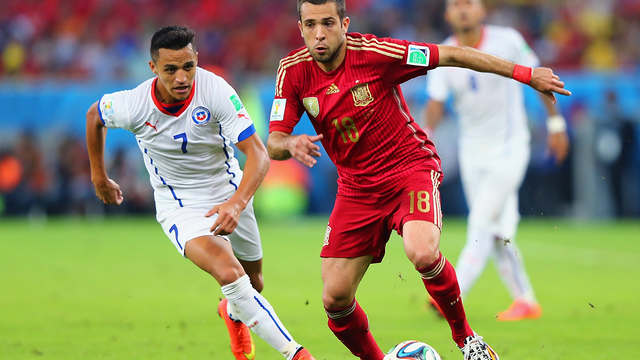 Spain, with four FC Barcelona players in the starting line-up, are eliminated from the 2014 World Cup after picking up a 0-2 defeat at the hands of Alexis Sánchez's Chile, who are mathematically through to the next round of the competition
Spain, with four FC Barcelona players in the starting line-up, went up against Alexis Sánchez's Chile in a do-or-die match to stay in the World Cup. Vicente del Bosque's men were unable to best the Chileans and thus have been eliminated from the global tournament. Vargas put Chile ahead inside the 15-minute mark, and Aránguiz put the final nail in the coffin minutes from halftime.
Shocking opening 45
Chile, with qualification to the next round within grasp, came out swinging against a nervy Spain side. Within the first 90 seconds, the South Americans came close on two occasions to netting the opening goal but both attempts went dangerously wide of Iker Casillas' goal.
Vicente del Bosque's men slowly took charge of the match after Chile's opening foray. Their movement was quick and their passes precise and quick. Xabi Alonso enjoyed a brilliant chance on 13 minutes, but Real Sociedad's Bravo did well to deny the Real Madrid player. But when Spain were at their best, a counterattack led by Alexis Sánchez proved lethal when the ball found its way to Vargas, who tapped it past Casillas for the opener.
Things got worse for Spain. In the dying minutes of the half Aránguiz picked up a rebound from an Alexis free kick and toe-poked it past Casillas to double Chile's lead. The teams went to the break with 0-2 on the scoreboard.
Spain unable to break Chile down
Spain were more intense at the start of the second half. After just two minutes, Iniesta found Diego Costa in Bravo's area, but the forward's shot was deflected to a corner. Five minutes later Busquets got on the end of Diego Costa's bicycle kick cross, but miscalculated his shot in front of an open net.
As time ticked toward full time, Spain's chances to reach the next round dwindled. Chile's defence seemed impenetrable and going forward, with Alexis leading the charge, they were threatening. Try as Spain might, Chile's inexhaustible team effort was too strong to concede a goal. The referee blew the final whistle on the 96th minute leaving Spain out of the World Cup.