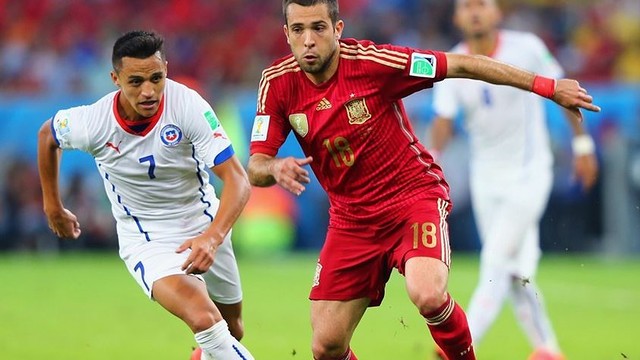 Of the 13 FC Barcelona players in the World Cup, the Brazilians, Argentinians and Croatians could still reach the next round of the competition
Alexis, with Chile, is the only FC Barcelona representative that has secured a spot in the Round of 16
"This is very difficult because we were really excited to play in this tournament," says Iniesta after Spain lost to Chile on Wednesday evening
The 2014 World Cup is moving toward the knockout stage, and as that do-or-die phase of the tournament approaches FC Barcelona players find themselves in different situations. Of the 13 blaugrana players in the global tournament, six of them have a chance of getting into the next round, while seven others – Spain's six and Cameroon's Song – have been eliminated.
Alexis' Chile through to the next round
Even though there are many Round 2 games yet to be played, there are some teams that have sealed qualification to the next round. One of them is Alexis Sánchez's Chile. The Chilean team defeated Spain by 0-2 on Wednesday and made it into the Round of 16.
In addition to Chile, Brazil and Argentina are very close to reaching the next round. The host nation, with Neymar Jr and Dani Alves in its ranks, are closer than Argentina. They only need one point in the last round, against Cameroon, to qualify, and if they win they'll be group winners. Messi and Mascherano, on the other hand, still have their Round 2 game in hand. A victory over Iran on Saturday will seal their passage to the Round of 16.
Ivan Rakitic's Croatia will take on Mexico on Monday. The winner of that match will go on to the next round.
Spain and Cameroon eliminated
For now, the elimination of Vicente del Bosque's team is the biggest news to come out of the World Cup. Two defeats from two matches leave the holders of the title out of the competition. Piqué, Jordi Alba, Sergio, Xavi, Iniesta and Pedro are out of the World Cup, and they will close out their participation in the tournament against Australia, who are also eliminated. "This is very difficult because we were very excited to play this tournament," said Iniesta.
Lastly, Alex Song's Cameroon have also been eliminated. The African team were defeated by Croatia on Wednesday, thus leaving them with no option to progress. In addition, Alex Song was shown a red card in the match.
Therefore, six Barça players have a chance of moving on to the Round of 16 of the World Cup.