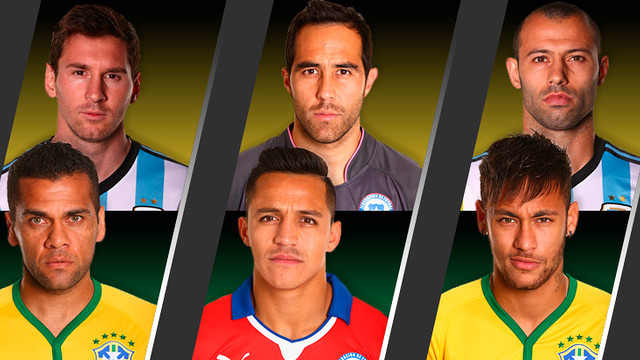 Neymar and Alves (Brazil), Alexis and Claudio Bravo (Chile) and Messi and Mascherano (Argentina) are the six FC Barcelona players that are playing in the second round of the World Cup
All of have played central roles in their respèctive teams, and Neymar and Messi are the tournament's joint top scorers with four each
The group stage of the Brazil 2014 World Cup comes to a close tonight, with Brazil, Argentina and Chile all through to the last sixteen. That means that six of FC Barcelona's players are still involved in the competition, and here we take a look at the story so far for each of them.
Neymar Jr: The host nation's main reference in attack. He has played 249 minutes and scored four goals to lead Brazil to the top of their group, with wins against Croatia (3-1) and Cameroon (4-1) and a 0-0 draw with Mexico. His two first round braces mean he is already the sixth highest goalscorer ever for his country.
---
Dani Alves: Scolari has every faith in right back Dani Alves, who has played all 270 minutes and won eleven balls. Along with Neymar, he and Brazil are through to the knockout phase, where they'll meet Alexis and Bravo's Chile on Saturday at 6.00 PM CET.
---
Alexis Sánchez: The Barça striker is very much part of Jorge Sampoali's plans. He's played all 270 minutes and scored in Chile's opening fixture against Australia, while also performing well against Holland and Spain.
---
Claudio Bravo: The Chilean keeper was announced on Wednesday as the latest signing for FC Barcelona. In Chile's first three games he's conceded three goals (one against Australia and two against Holland). With an 80% save rate, he's been one of the most impressive keepers in the tournament, and now prepares for the huge challenge of Neymar, Dani Alves and company.
---
Leo Messi: The World Cup has got off to a tremendous start for the Barça superstar, who has scored in every game so far for Argentina. His strike against Bosnia was an absolute scorcher from outside of the area, and his late winner against Iran was almost an exact replica. He took his overall tally up to four with a brace against Nigeria, the first coming when he fired home a loose ball in the area and the second being a delightfully placed free kick. After playing two full matches, and with first place in the group looking secure, manager Sabella decided to rest him for the last half hour against the Africans. Messi has been named man of the match in all three games.
---
Javier Mascherno: For his country, Mascherano is being played as a defensive midfielder, a slightly deeper role than the one he has been playing for Barça. He has played the full 90 minutes of every game so far, where he has been winning balls (23) and amassing an excellent pass completion rate (89.4%). Argentina finished top of Group F and will now take on Switzerland next Tuesday July 1 at 6.00 PM CET.