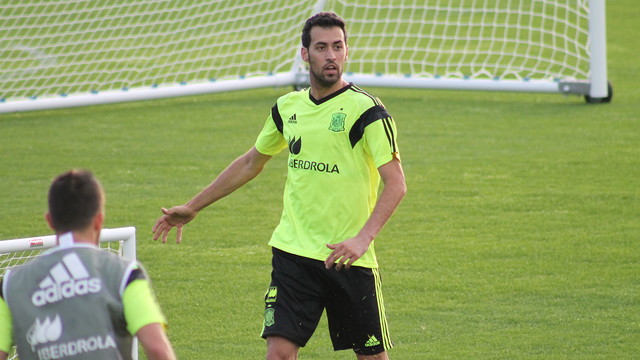 The midfielder warns that Brazil's "heat and humidity" will be factors in the upcoming World Cup
The 13 FC Barcelona players selected for their respective national teams are two days away from starting their bids for the World Cup. Spain, with seven Barça players, arrived in Brazil on Monday from the United States, and this Tuesday Sergio Busquets, along with Diego Costa, talked to the press.
"The weather is perfect for training, it's not hot and the installations are great, very calm," explained the FC Barcelona midfielder. After his experience in the 2013 Confederations Cup, Busquets is clear that Spain need to "have more possession and circulate the ball quickly, the better we do that the better off we are. The heat and humidity will be factors, we experienced that last summer."
[[CITA_1]]
The Barça player went on to talk about his teammate Xavi Hernández, who will feature in his fourth World Cup at the age of 34. "He's the same he's always been. Whatever happens after the World Cup is his decision," said Busquets.
As far as the other teams go, on Monday night Neymar Jr picked up a knock to his right ankle during Brazil's training session in Teresopolis. Neymar Jr was able to rejoin his teammates and complete the training session. Brazil will kick off the World Cup on Thursday.
The heat and humidity will be factors, we experienced that last year