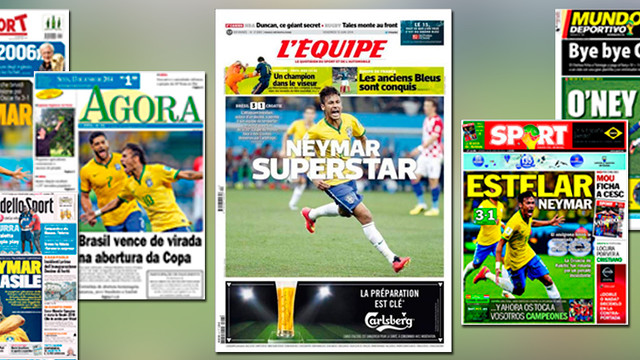 FC Barcelona's Neymar has stolen headlines all around the world after leading Brazil to victory against Croatia
There were all kinds of reactions in the world's press following Brazil's 3-1 win over Croatia in the opening game of the 2014 World Cup. There was almost as much talk about some controversial decisions by Japanese referee Yuichi Nishimura as there was about the football, and not everybody was overly convinced by Brazil's performance. But where there was unanimous agreement was that FC Barcelona's Neymar stood head and shoulders above the rest and is already on course to being the star of the tournament.
"Better than Pele"
Brazil's top sporting daily, O Globo, spoke of "a debut that neither Pele or Ronaldo had," going on to explain how the greatest Brazilian footballer of all time, Pele, didn't find the net until the quarter finals in his first World Cup, Sweden 1958, while Garrincha didn't score at all that year. Romario was a disappointment at his debut World Cup in 1990, while the tournament's all-time highest goalscorer, Ronaldo, also failed to find the net in his first appearance on the world's greatest stage.
But despite an injury scare in the warm-up, Neymar shrugged off the pressure of a hugely expectant home crowd to score twice in his first ever outing at a World Cup Finals. The biggest newspaper in the city staging the game, the Folha de Sao Paulo, was generally critical of how the home side had played (and like most Brazilian papers was willing to admit that they benefitted from an inexistent penalty), but it was gushing with praise for how Neymar, "o craque", had led the team back into the game after a Marcelo own goal had put the Croats into an early lead.
"Spiritual leader"
"Neymar not only scores the goals for Brazil" wrote Catalan sports daily El Mundo Deportivo, whose headline "O Ney" was a pun on the "O Rei" title that's traditionally applied to Pele. "Neymar doesn't just get fouled and get straight back up again. Most of all, Neymar holds Brazil's soul together. This 22 year old is the spiritual leader of a canarinha team that on its debut showed that otherwise it is seriously lacking in players of such mental strength."
Catalonia's other main sports paper, Sport, ran with the headline: "Neymar illuminates Brazil's debut", going on to explain how "the Barça striker always took the initiative for Brazil in attack and all of the main chances came from his boots".
Images of the Barça star appeared on the front pages of sports and general interest newspapers all around the planet. "Neymar Superstar" was the headline in France's L'Equipe, "Neymar rescues Brazil" proclaimed Madrid daily As, and in Italy, La Gazzetta dello Sport reckoned last night's win was "more about Neymar than Brazil" and that "it's already Neymar's World Cup."
"Different class"
In typical British fashion, The Guardian was somewhat more restrained when it commented that "it is not just Brazil who need Neymar to shine, it is the entire tournament, and while he was occasionally erratic in his decision-making and passing, this was still a promising start." In a similar vein, The Daily Mail spoke of "flashes of brilliance and a goal that sent this stadium into ecstasy. A foolish booking for a clash with Modric aside, he carried the hopes of a nation well."
Next up for Brazil is Mexico on Tuesday, where El Universal reported that against Croatia "Neymar was the general. The Barcelona star carried the team on his shoulders, while his ten team-mates looked like mere mortals from a different team to the one that has won the most titles in tournament history."
Perhaps not surprisingly, the Croatian papers focused on other matters. "Croatia Robbed" was the headline in Novi List and Vecernji spoke of "Injustice". But although it is impossible to deny that there was considerable indignation in the world's press about some of the decisions that went in Brazil's favour, there was no denying that Neymar was a class above the rest at the Arena Corinthians last night. He is already the name of everyone's lips, and the World Cup has only just started.