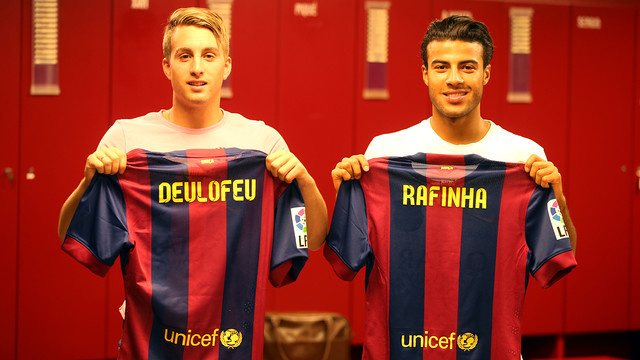 Lets take a look at the news from FC Barcelona over the last seven days
Edmílson, Neymar Jr, Messi, Rafinha, Deulofeu, Eusebio, Sigurdsson and Mascherano are some of the names in the news this week. Let's take a look back at the ten most important news items of the last seven days
.
1) Following the squad selections of Brazil, Chile and Spain, on Monday we also got to see the squad lists of Cameroon and Argentina, with Song, Mascherano and Messi amongst the 23 players called up.


---

2) José Edmílson Gomes de Moraes, Barça player from 2004 to 2008, gives his views on FC Barcelona in an exclusive interview on the Club's website.


---

3) Tuesday 3rd of June was the first anniversary of Neymar Jr's presentation as a FC Barcelona player. Let's take alook at his firts day at Barça.
---

4) On the same Tuesday, 2 players returning to Barça for 2014/15, Rafinha and Deulofeu, put on the new Barça shirt and stepped onto the pitch at the Camp Nou.
---

5) Leo Messi, the World's best player, is still in news around the World. This week he appeared in 'Sports Illustrated' and 'ESPN'. Messi, Neymar, and Iniesta also appeared in the weekend issue of the 'New York Times'.

6) Louis Van Gaal and Patrick Kluivert gae theri thumbs up to Luis Enrique's signing as first team coach at the Camp Nou.
---

7) In a similar manner, former Barça goalkeeping coach, Frans Hoek, was very positive about the signing of German keeper Marc-André ter Stegen.
---

8) On Thursday 5th of June Eusebio Sacristán renewed his contract as Barça B coach until 2015.
---

9) Gudjón Valor Sigurdsson signed for FC Barcelona Handball, from the German outfit THW Kiel.

---

10) FC Barcelona and Javier Mascherano reach agreement for an extension of the Argentinian's contract for four more years, until 30th of June 2018, with an optional one year extension. His buy.out clause will be 100 million Euros.