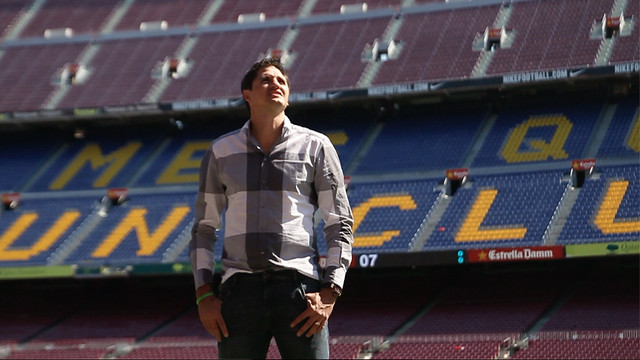 Champion in a FC Barcelona shirt, Edmílson talks exclusively about the Club, Neymar, Messi and the World Cup
The FC Barcelona player from 2004 to 2008, Jose Edmilson Gomes de Moraes (37 years old) was part of a golden generation in the recent history of the Club. The versatile Brazilian player – he played in defense or midfield – won a European Champions League in 2005/06, two Spanish Leagues (2004/05 and 2005/06) and a Spanish Super Cup (2008), wearing a Barça shirt. Edmílson was part of the team led by Dutch coach Frank Rijkaard, who had Belletti and other Brazilians (Sylvinho, Motta, Deco, and Ronaldinho) in a great squad. Three times League Champion with Olympique Lyon, Edmílson also knows what it is like to be a World Champion with Brazil, an unforgettable experience that he shared in Korea and Japan in the World Cup in 2002.
To talk about the World Cup, Barça, Messi, and Neymar, amongst other subjects, he spoke exclusively to www.fcbarcelona.pt.
Question – What do you expect from the Brazilian team in this World Cup?
Edmílson – I expect a lot. Following Scolari's return, I think the Brazilian team regained their credibility and confidence. With the conquest of the Confederations Cup last year, they also managed to create a strong and consistent team that comes into the World Cup very strongly, and they have the advantage of playing in front of their own people.
You're one of the privileged few who has won a World Cup. In your opinion, what is the most important thing to win a competition like this?
Edmílson – It is essential that all 23 players concentrate and that there is harmony in the group. There can be no vanity, that's what makes a team fail. Without vanity and without division in the squad, it's easier to win. In my opinion, harmony and concentration is required.
What did it mean to you winning the Title?. Did it change your career or personal life in any way?
Edmílson – Without doubt. Playing for the national team in a World Cup is a really good thing for any player, especially for us Brazilians as we take it very seriously. I was fortunate to be Champion and even scored a goal. It was very important. It changes your life, and you get spectacular recognition, especially after you retire. Children come up to you and their parents say: "Son, he was the World Champion". Undoubtedly, it's very rewarding.
What do you most remember about your time at FC Barcelona?
Edmílson – Without doubt, playing football at a full Camp Nou. It's a true temple of football. I also can't forget the preparation before matches in the Champions League, the Clasico against Real Madrid, and all the important matches in the Champions League.
You experienced the reality of FC Barcelona from the inside. In your opinion, why is Barça 'more than a club'?
Edmílson – Because FC Barcelona has "feelings" that no other club has. Amongst other things, it represents a nation (Catalonia) and has spent its entire history without a sponsor on the shirt, something that has recently changed. Playing at Barça is a unique feeling. The power of the club media is also impressive. You are recognised worldwide. Also, the Club cares about helping others through various social actions. In my opinion it is much more than a club.
You still have contact with the FC Barcelona Foundation via the Edmílson foundation. It's as if you're still playing with Barça with the objective of helping the needy?
Edmílson – It's fantastic. As I said, Barça is more than a club. They give support to such actions and solidarity projects and my Foundation has always had the support of the Club. Barça is a great supportive club, not only through the development of projects and partnerships through action, but also with all its former players, who can always count on the Club.
How do you see the changes that we're experiencing at FC Barcelona?
Edmílson – Change is natural. You get to a certain age and your level is not the same. I often say that players and coaches move on, but the Club stays the same. I think that changes are always positive, provided there is proper planning, as in the time of Rijkaard and Guardiola. I think it's necessary to make way for young people with a desire to win. In addition it's also important to be able to count on the experienced players. This combination is important to achieve great goals.
Yourself and Messi coincided at the start of his career. Were you surprised at his explosion as a player, and the four 'Balones de Oro' that he's won?
Edmílson – No one ever doubted his talent and his success is not a surprise. The only concern we had at that time was regarding injuries that were pursuing him. Messi has always been an explosive player, but at the time he gave the impression that his muscles weren't prepared for so much power. However, he worked hard, with the help of Juanjo Brau, and things went well. He's not an ordinary player, and he could play, for many years, at the highest level, something that is very tough. This year I think he received some unfair criticism. After all, we are not machines, and sometimes performances are not the same.
Do you think that Neymar could become a great idol at FC Barcelona?
Edmílson – I think he has everything to get there. He's young, he has talent, a desire to win, and to be recognised. His first season perhaps was not the best due to some external factors, but he has all the ability in the world to become a great idol of the Club and, God willing, he'll get there.
Do you still follow what's going on at FC Barcelona?
Edmílson – I watch most games. Barça always play well and are attractive to everyone. This Club will always be in my heart.